The Teen Vaping Crisis
December 10, 2019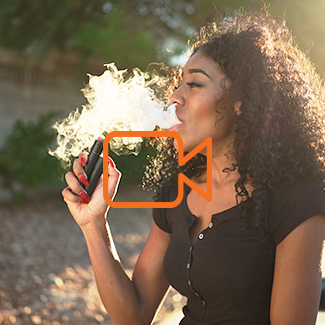 About two and a half years ago in a small rural town near Pittsburgh, Pennsylvania, an 18-year-old girl had just started using her first electronic cigarette (e-cigarette). She was not too different than any other teenager in Denver. She attended high school and worked part-time at as a hostess at a local restaurant. She had no idea how her life would soon change and that in a few weeks she would be teetering on the edge of life and death in an intensive care unit while doctors worked frantically to save her life.
How Vaping Can Damage Your Lungs
Two to three weeks after starting to regularly use her e-cigarette, this young lady developed a mild cough and some chest tightness. She didn't think too much of this initially, but her symptoms rapidly got more worrisome. Her cough worsened; her breathing became more difficult, and with each breath – searing pain wrapped around her chest. She didn't feel sick like she had a cold, but she knew she had to get medical attention. In the emergency room, doctors found her heart racing, her breathing labored and rapid, and her blood oxygen level alarmingly low. Blood tests showed a very high white blood cell count, usually an indicator of infection or inflammation, but no bacteria, virus, or even parasite was ever isolated. A CT scan of the chest showed an unknown material clogging some of the small airways of her lungs, unusual thickening of the walls between those airways, and fluid filling the usually flat and empty space between her chest and the lung.
Her condition went from bad to worse – forcing emergency room doctors to rush her to the intensive care unit where they started her on multiple antibiotics. Specialists put her in a medically induced coma and on a ventilator as she could no longer breathe on her own. They placed tubes in the space between her chest and lungs to drain the large amount of fluid that had built up and was literally squeezing the air out of her. The lung specialist threaded a camera on the end of a small, flexible cable through her mouth, down her throat and into her lungs and found clear, frothy fluid throughout her airways. Rapid analysis of these secretions revealed only the body's own white blood cells, but some of them were filled with an unknown, fatty material. If things couldn't get any worse, her blood pressure now dropped to a level incompatible with life. Doctors started medicine through her veins to raise her blood pressure and keep her alive. To be continued…
Acute Lung Injury
When this teenager's case report was first published in 2018, it was one of only a few cases ever reported of what we now know as acute lung injury from e-cigarette use (a.k.a. vaping). With the surge of e-cigarette use we've seen in the last few years, especially among adolescents and young adults, cases like hers have reached epidemic proportions.
Between March and November of 2019, there have been:
2,172 reported cases of acute lung injury

Half involving people under the age of 23
77 percent had vaped products containing marijuana

42 deaths from vaping in the United States
1 potential vaping death under investigation in Denver
So far scientists have not identified the direct cause of the lung injuries; however a recent study showed they may be linked to vitamin E acetate, an oil used to thicken the vaping liquid, particularly marijuana-based liquids.
First-Generation E-Cigarettes
Electronic cigarettes first entered the U.S. market in 2007 as a product designed to mimic a traditional cigarette including having a small red LED light up at the far end of the product when the user inhales. A lithium-ion battery powers a small metal coil in the electronic cigarette that, in turn, heats a nicotine/propylene glycol solution to a fine aerosol. The user then inhales (vaping) this solution at the e-cigarette butt.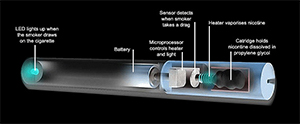 Variations of this product entered the market for the next few years but none of them achieved popular success. The product did not appeal to long-term smokers as its use resulted in only half of the blood nicotine levels achieved by traditional cigarettes. Additionally, the products did not appear to help people quit smoking as initially marketed. Finally, its simple design and "tobacco" taste did not appeal to young, non-smokers either.
The Success of Second Generation E-Cigarettes
The next generation of electronic cigarettes entered the U.S. consumer market between 2010 and 2014 and found almost immediately commercial success that has not slowed down.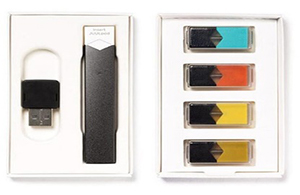 These products appeal to regular smokers with their larger battery size and ability to manipulate the product's heating element. Aerosol can now be inhaled that results in blood nicotine up to 500 percent greater than from traditional cigarette smoking. Their sleek, elegant designs along with disposable pods pre-filled with flavored nicotine solutions has led to increased popularity among teenagers.
Consider these numbers:
In 2011 – only 1.5 percent of high school students vaped
In 2019 – that number has grown to 20.8 percent, nearly double what it was in 2018, at 11.7 percent

Next generation e-cigarette with an open-tank system and a reusable tank

.
Additionally, introduction of refillable pods and tanks have led to increased vaping experimentation such vaping marijuana. A recent survey in North Carolina found that one in ten high school students have vaped cannabis.
Youth Health Crisis
The increase in teen vaping over the last few years is having profound implications. It is also creating a resurgence in nicotine addiction and a new generation of cigarette smokers. An article in the journal Pediatrics finds that Teens who try vaping are 350 percent more likely to start smoking cigarettes compared to teens who don't. Based on those numbers, it shouldn't surprise anyone that teen tobacco use has started to rise again. Overall teen tobacco use had been steadily declining since the mid-1990s. That trend suddenly reversed in 2012 and 2013, for both girls and boys, perfectly matching the rise in vaping. See more alarming numbers in the 2018 National Youth Tobacco Survey.

Research has shown that nicotine increases the possibility of using other addictive substances, and teens who vape are much more likely to use alcohol, marijuana and illicit drugs compared to teens who don't vape. This problem persists into college as university students who vape are not only more likely to use illicit drugs, they are also more likely to abuse prescription pain medications compared to non-vapers.

The rise in vaping should be a call to action for parents, teachers, public officials, and young adults themselves. Its catastrophic health consequences are quickly becoming apparent. Its rise has been fueled by sophisticated product innovations targeting young, non-smokers. Vaping from these newer products results in blood nicotine levels significantly higher than a traditional cigarette, creating a new generation of nicotine addicts and smokers. Its use sensitizes the brain to use other addictive substances. It has become the youth health crisis for this generation.
Recovering From Lung Injury Caused by Vaping
Returning to our story … Doctors, realizing that vaping may have triggered a massive inflammatory response in the teenager's lungs, started her on a very high dose steroid medication. Her condition started to improve. Her blood pressure normalized. Within five days she was breathing on her own without a ventilator. She was eventually discharged from the hospital.
How To Quit Vaping
Denver Health patients interested in quitting vaping or smoking, can use their MyChart app or contact their provider to schedule an appointment at one of our several tobacco cessation clinics throughout Denver.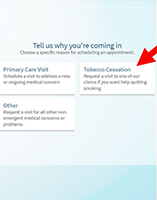 Ali Zirakzadeh, M.D. is a primary care physician at Denver Health's Wellington E. Webb Center for Primary Care and leads Denver Health's Tobacco Cessation Clinic there. He works with Denver Public Health to provide education to the public about vaping and tracks all the latest trends related to health issues and vaping.