April 10-April 14: COVID-19 Behind the Scenes
April 17, 2020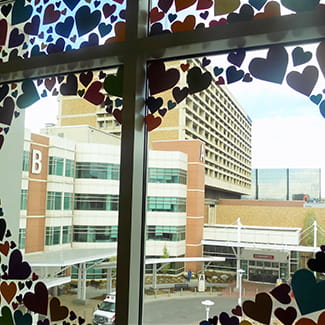 For 160 years, Denver Health has been providing care in the heart of Denver. In all that time, we've stayed true to our mission to care for all and put our heart into that mission every day. The heart of our mission has never been as important as it is now, during the COVID-19 pandemic. That's why we've chosen to showcase a lot of hearts in this week's edition of our "heroes" behind the scenes blog. This photo comes from Ashley Spalla, a registered nurse in our neonatal intensive care unit (NICU). Spalla and the other nurses in the NICU put hearts up in the windows of their unit including this one facing Pavilion A – where all of Denver Health's COVID-19 patients are being treated – to show solidarity with their colleagues on the front line of this fight. It's part of a worldwide movement called "A World of Hearts." Spalla said she wanted it to symbolize their gratitude and show love and appreciation for all they are doing. "We want everyone who sees the hearts to know we are here fighting for them through this crisis." Keep reading for the stories of all the heroes we are highlighting this week. We will continue to post blog updates as we get them – follow along right here.
4/14/2020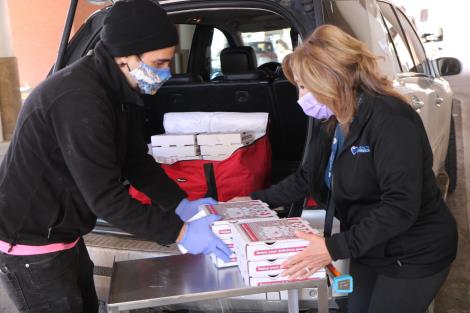 Fresh pizza, coming in hot! We talk a lot here about the heroes inside Denver Health, but we can't forget the heroes in our community, helping to keep our front line workers going during these difficult times. Local Denver restaurants have been kindly donating food to keep our healthcare workers fed and happy while they are busy taking care of patients.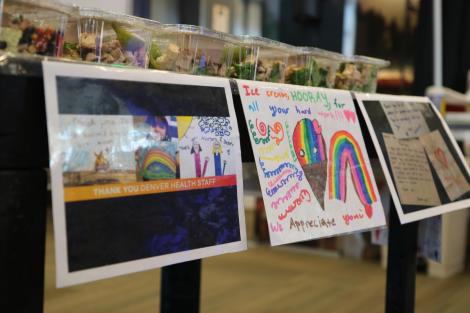 Thank you cards from our patients and their families line the food delivery carts for our staff. This one mentions ice cream and says "we appreciate you." It's a daily reminder of why we do this work – taking care of people is what we do best at Denver Health!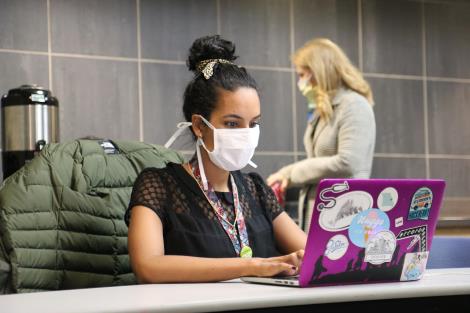 Fourth year medical student Kitty Branche is seen here in the Incident Command Center, updating one of the daily reports on COVID-19 that is shared with all Denver Health staff daily. We are pleased to report that more than 120 COVID-19 patients have now been discharged from the hospital.
4/13/2020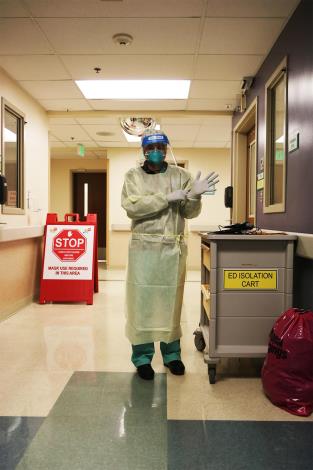 Evangelia Murray, MD, an emergency medicine resident at Denver Health, suits up in her personal protective equipment (PPE) to work with patients. She's looking forward to taking a break later and eating some empanadas which were donated to the emergency department.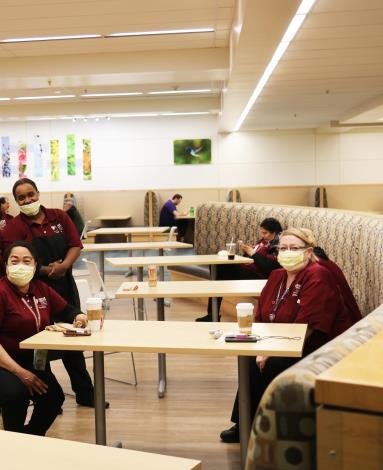 Our workers in the Good Day Café are on the front lines too. They, like our medical workers, have also had their personal lives affected by COVID-19, however they're all smiles with each other at work. They always try to leave their troubles at the door and to provide a cheerful experience for all of the employees and patients they serve.
4/11/2020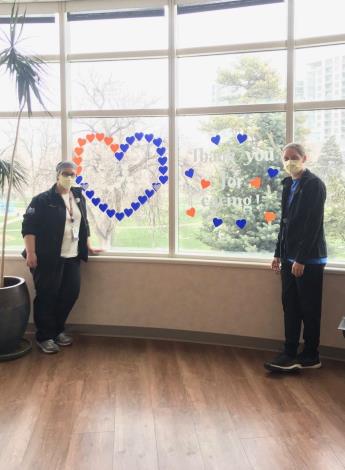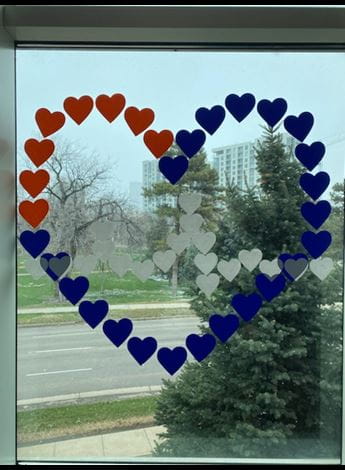 Easter looked a bit different at Denver Health as our chaplains held services for patients over video conferencing this year, which was then played back in patient rooms throughout the day. Pictured here are chaplains Rebecca Scull and Mary St. Onge who came in on their own personal time over Easter weekend to decorate the COVID-19 units and the employee lounge with hearts and inspirational sayings. These photos come from our medical intensive care unit.
4/10/2020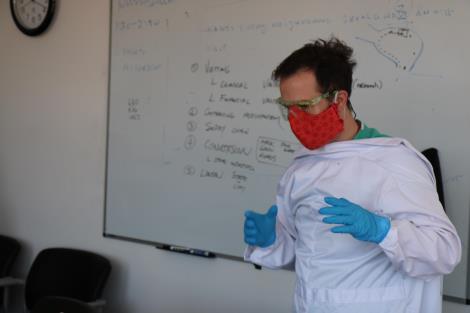 Matt Mendes, MD, an emergency medicine resident at Denver Health, practices how to correctly "don" (or put on) personal protective equipment. The intricate process requires two sets of gloves, a gown, a mask and a face shield.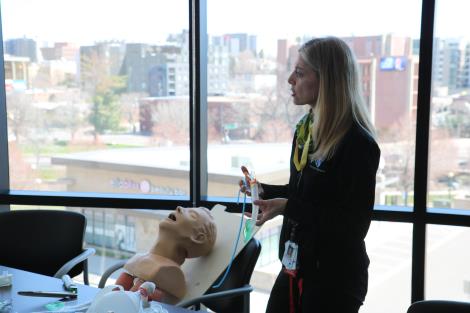 Denver Health emergency medicine physician Maria Moreira, MD, leads training sessions for residents using dummy patients. Topics she covers include how to intubate patients and how to put on PPE. She watches and provides feedback for all of her trainees.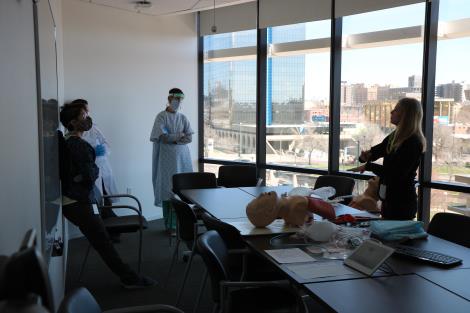 After the residents appropriately put on their PPE, Dr. Moreira discusses techniques for how to intubate patients with COVID-19.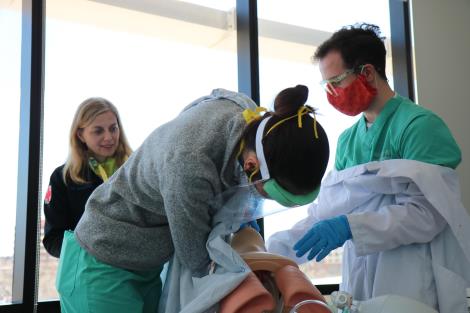 Denver Health resident Lesley Pepin, MD, practices intubating the dummy patient while wearing PPE, as Drs. Moreira and Mendes look on.