April 3-April 7: COVID-19 Behind the Scenes
April 09, 2020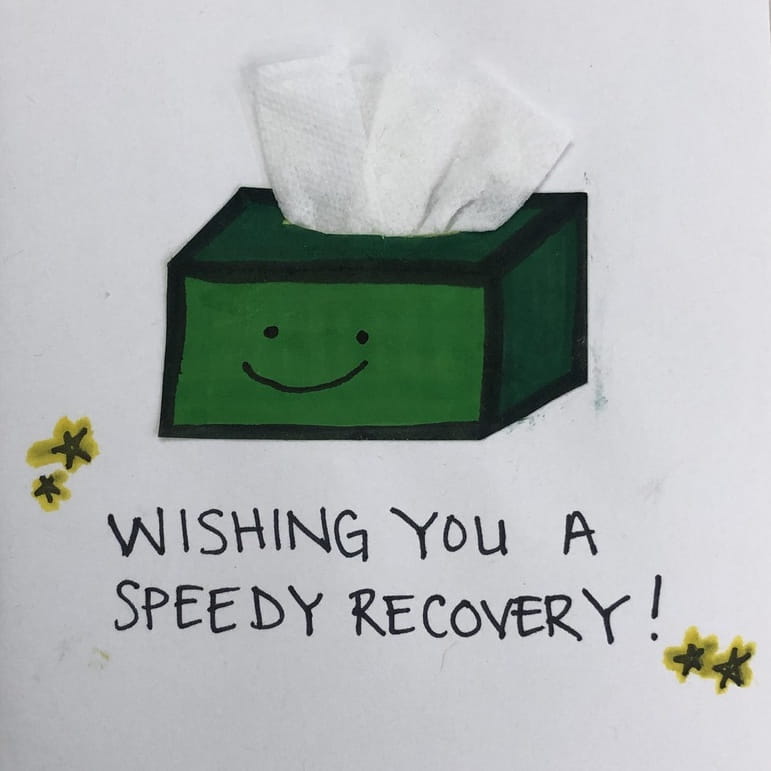 The Heroes of Denver Health during the COVID-19 epidemic include our doctors, nurses and providers, but also some of the other behind-the-scenes unsung heroes of the hospital, including our food service workers, volunteers, medical students and human resource professionals. All of these tireless workers and others continue to come in every day, taking the proper precautions to prevent further spread of the virus, to keep our hospital running for both COVID-19 and non-COVID-19 patients. Care for our patients has never been more important than it is right now. Medical student Hannah Imlay hand crafted a card with a box of tissues on it, wishing all Denver Health patients a speedy recovery. Read on for the stories of the heroes we are highlighting this week. We will continue to post blog updates as we get them – follow along right here.
4/7/2020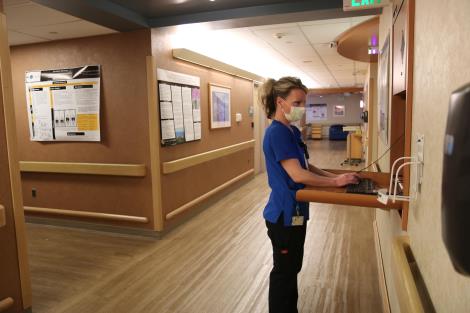 At this time, all employees who work inside Denver Health are required to wear masks to help prevent the spread of COVID-19, whether they are treating COVID-19 patients or not. In this photo, Denver Health Nurse Misty Merrill, RN, wearing her medical mask, takes a few moments to write a quick update note before running to take care of another patient.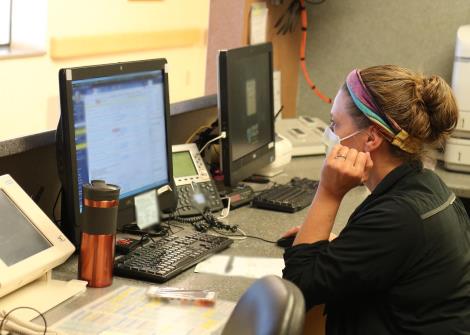 While the world is focused on COVID-19, patients who do not have the novel coronavirus are still being cared by our staff. Dawn Navarro, a 9th floor nurse, said, "at the end of the day, I want to be able to look back and say we did our due diligence for ALL of our patients."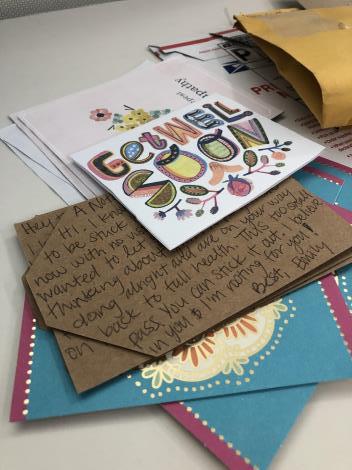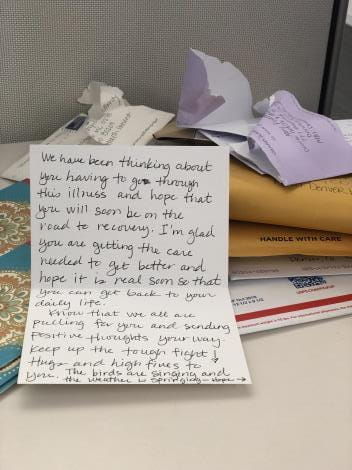 In this digital age, handwritten cards of support for our COVID-19 patients have been flooding into the hospital. These were written by some of the medical students at the University of Colorado School of Medicine.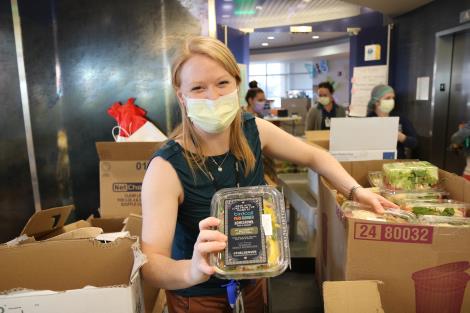 Taking care of our patients can cause a serious appetite! Khyla Burrows, a medical student volunteer from CU, is happy to help our health care workers stay full and fueled by helping to distribute these food donations from the teams at BirdCall, Park Burger and Homegrown Tap & Dough.
---
4/6/2020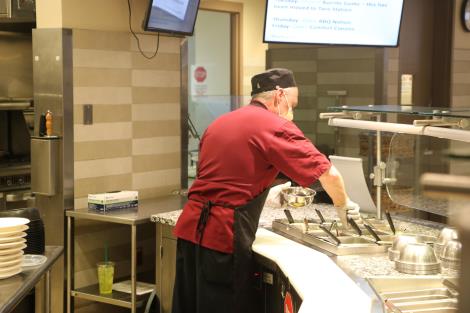 The Good Day Cafe remains open during the pandemic to serve our team, vendors and our patients, but with some changes to keep COVID-19 from spreading. The biggest change is there are no self-serve options any more. Even though social distancing and visitor limitations at Denver Health have caused a drop in customers, our hard-working cafeteria team still shows up to work every day. Here we see Mike Lueck ready to serve some delicious noodle bowls to our staff!
---
4/3/2020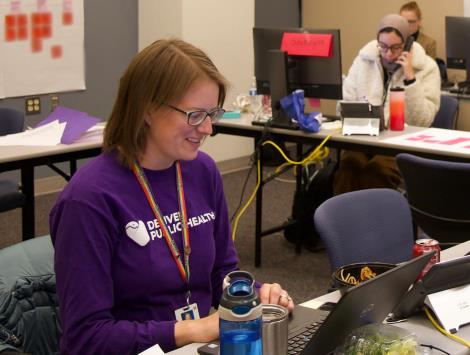 Making sure Denver Health is properly staffed at a time like this is critical. This is our Labor Pool, the group tasked with making sure each area of the hospital gets the staffing it needs. Arjanea Williams (not pictured here) said her biggest challenge right now is remembering to breathe. "Sometimes we have to remind each other just to breathe and care for our own mental health. If I had to do this all over again, I wouldn't want to do it anywhere else or with any other team."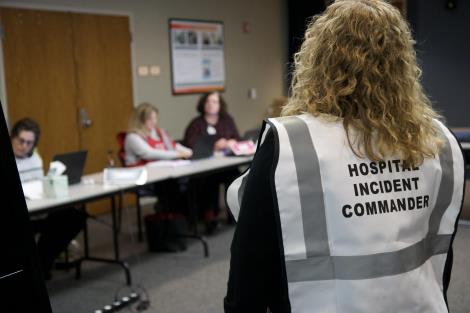 Denver Health has activated an Incident Command Center to make sure we can quickly and properly respond to all aspects of the COVID-19 pandemic. It is staffed seven days a week, with twice daily debriefings for key leadership at the hospital. This photo was taken during the Friday afternoon debriefing. Incident command is often associated with a natural disaster and Denver Health Chief Medical Officer Connie Price, MD told CBSDenver the setup inside the hospital is modeled after that same response. "It's very intense, it's very structured ... you can imagine coming out of a disaster that military style execution, it's very organized and everybody has a very specific job," Dr. Price said.