March 26-March 31: COVID-19 Behind the Scenes
April 02, 2020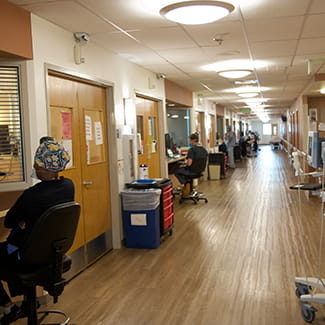 Throughout the COVID-19 pandemic, we want to give you a behind-the-scenes look at what's going on throughout Denver Health, on what has become known as the COVID-19 unit, inside Pavilion A. These are just a few of the photos captured during one week's time. We will continue to post blog updates weekly or as we get them – follow along right here.
3/31/2020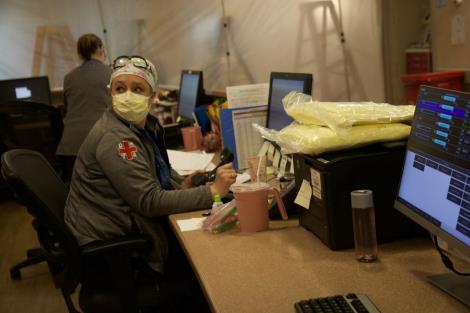 Denver Health nurse Brittany Baker, RN returns a patient call during a busy day on the COVID-19 Unit, inside Pavilion A at Denver Health. Half of the unit is being transformed into temporary intensive care unit rooms, requiring new wiring, monitors and outlets for ventilators. The sheets and ladders in the background are to keep the dust contained, while the other half of the floor continues to actively care for COVID-19 patients (charge nurse Bernadine Swift, RN, is in the background).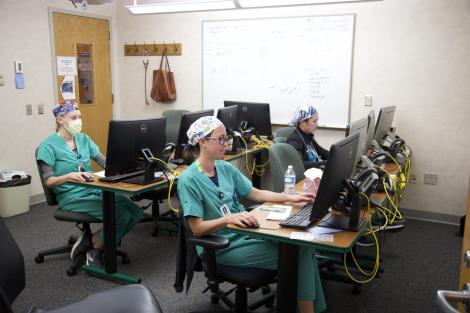 Left to right: Denver Health physician's assistants Kristin Nolan and Alison Green, and Jia Liu, MD are taking care of patients in the COVID-19 unit. This is a workroom set up especially for providers who are caring for COVID-19 patients.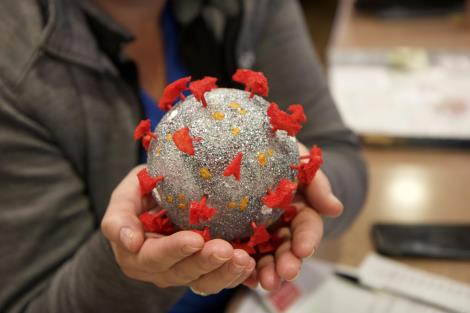 This is a three-dimensional model of the COVID-19 virus created by the nurses on the 9th floor of Pavilion A at Denver Health, where there are not any COVID-19 patients. The nurses on the 9th floor made this as a gift to give to the nurses working on the COVID-19 Unit to show solidarity and support.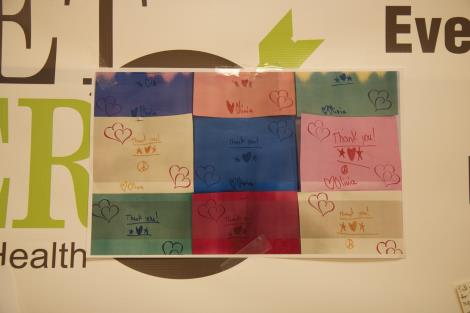 The daughter of a COVID-19 patient wanted to write thank you notes to the Denver Health staff, but due to the current visitor restrictions (and possible paper contamination), she wasn't able to hand deliver the notes. Her family decided to get creative and take a photo and email it to the team instead.
---
3/27/2020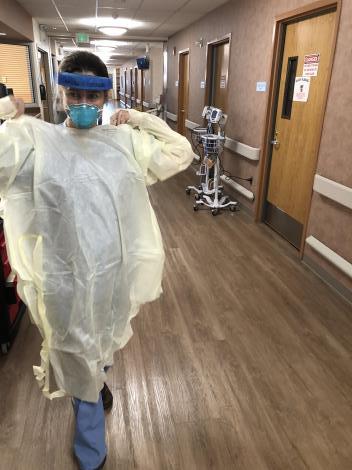 It's a busy day ahead for Denver Health physician Maria (Gaby) Frank, MD. Here we see her putting on her Personal Protective Equipment as she gets ready to see COVID-19 patients.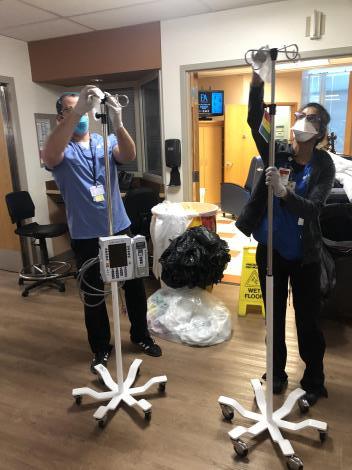 Certified Nursing Assistant Mark Rossini (left) and nurse Trina Fernandes (right) pitch in and disinfect IV poles, preparing for the next COVID-19 patient to be moved to into the unit.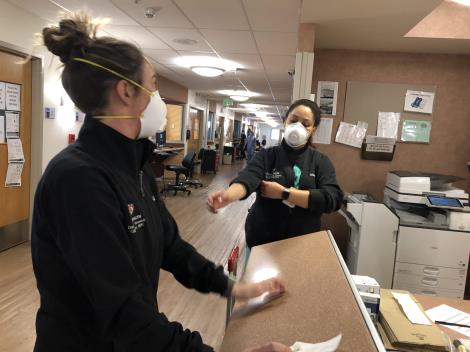 Caitlin Robinson (left) and Marcela Fitzpatrick (right) are research assistants in the Department of Surgery at Denver Health. With all elective surgeries currently on hold at the hospital, they have been assigned to help on the COVID-19 Unit. Here we see them preparing to collect samples from COVID-19 patients.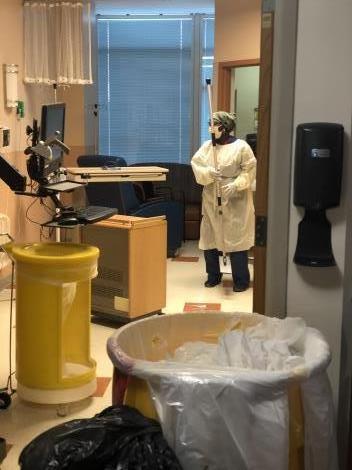 We hear a lot about the medical professionals who are working extra hours to battle the novel coronavirus, but we can't forget our janitors and custodians who are the heroes who help keep the virus from spreading. In this photo, Andra Osel pays careful attention to clean each surface in a patient room after a COVID-19 patient has recovered.
---
3/26/2020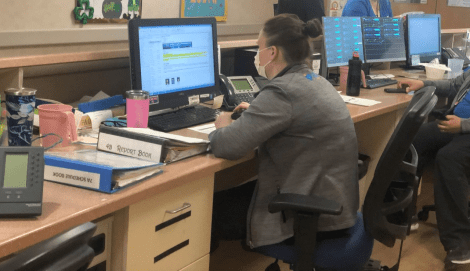 Khloe Gullixon, RN is a charge nurse on what has now become known as the "COVID-19 Unit" inside Pavilion A at Denver Health. She and her team moved from their normal jobs in an observation unit to help staff the COVID-19 Unit two weeks ago. We asked her why she goes into work every day, taking care of a virus people are so afraid of. "I got into nursing because I wanted to help people when they're going through their worst times," Gullixon said. "I have people who need help, and I have people I have to take care of. This is what we do.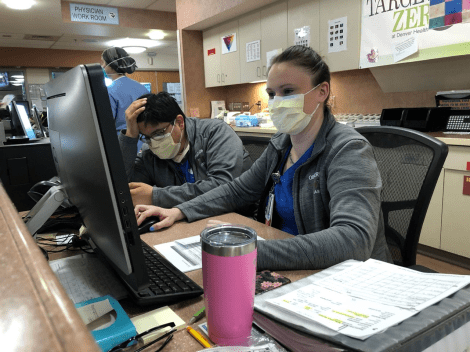 This photo was taken on the COVID-19 Unit as Ashley Pacheco, RN (right) trains Jose Amador, RN (left). We spoke to Pacheco about the shortage of Personal Protective Equipment (PPE) facing Denver Health and hospitals across the world right now. She said they are prepared to continue caring for patients under any circumstances. "It's inevitable with how much we need to use," Pacheco said. "We try to cluster care as much as we can, we take care of everything we can with one visit. Taking your meds, food, and doing your physical assessment all at once." We also asked her what she is telling people outside the health care field about COVID-19. "I've told people, 'do you want to trade? I would love to stay home!" My best advice is "Don't panic, but stay home. Hang out, watch movies or read a book.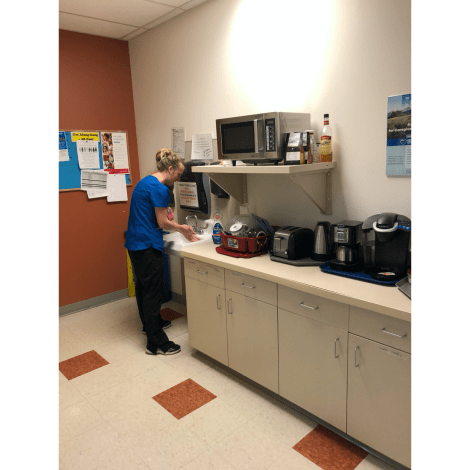 Denver Health staff have always been diligent about hand washing in the health care setting, but now more than ever, it is vital that everyone washes their hands for at least 20 seconds using soap and water. In this photo, we see Ashley Kehn, RN doing just that in the employee break room.