Sense of Duty Keeps Denver Health Paramedics Going In the Face of COVID-19 Pandemic
April 15, 2020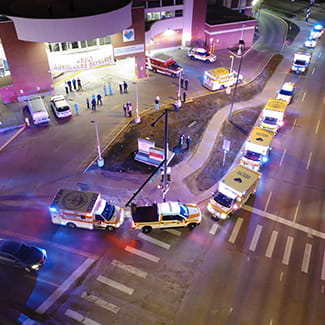 When we talk about front line workers in the face of the COVID-19 pandemic, at the top of that list are the heroes who, in many cases, come in contact with infected patients before anyone else does – our paramedics. The Denver Health Paramedics are facing some of the most uncertain and unnerving working conditions right now. Their leaders are working with Denver Police and Denver Firefighters on contingency plans to make sure that they will continue to be able to serve the city in case of a surge in the outbreak in Denver.
"Denver Health has been really supportive of the needs of the paramedic, knowing that we are out in the frontline and, you know, not always in the best condition," Denver Health Paramedics operations captain Julie Arellano told Colorado Public Radio. Arellano said due to the stay at home orders, the paramedics have seen a drop in the number of traumatic injury calls from incidents like car crashes, but that respiratory calls are increasing and its 240 front-line employees and 44 regular ambulances are just as busy as usual.
What It's Like to Work as a Paramedic During COVID-19
Paramedics are experiencing a lot of emotions as they continue to come into work every day, not knowing what they are going to face taking care of sick COVID-19 patients. They also worry about whether they will have enough personal protective equipment (PPE) to continue taking care of them and protect themselves. Despite those fears, they continue to get into their ambulances every day because of that "sense of duty."
It's something Denver Health Paramedic Dustin Zwiebel wrote about in great detail on the paramedics' Facebook page. Zwiebel ended up going to the emergency department himself after experiencing extreme anxiety over working on the front lines during a pandemic. He said it caused his Crohn's disease to flare up for the first time in years.
Yet, he wanted to go back to work right after that. It's the same type of decision many of his colleagues are making.
"Many of my colleagues on the line have their own set of unique circumstances that they are coping with," Zwiebel said. "They have hypertension, diabetes and other underlying health concerns that put them in a high-risk category. They have severed ties with vital support networks and have moved into camper vans to isolate themselves from their families. They are 20, 30 and even 40-plus years experienced medics. They have paid their dues, they have made tremendous sacrifices, yet they all still show up to the fight. I imagine it's because they feel the same sense of duty that I feel."
The Paramedic Battle Over Working During COVID-19
Denver Health paramedic Justin Loera said at times his shift lately has been "eerie and frightening." It's a struggle with trying to serve and comfort patients and anxiety about his own health. "It's battling inside — the battle that you have inside your mind, with 'Is this COVID, or is this maybe something else that's causing somebody to have trouble breathing?'" Loera said.
Even small things can provide relief in this new working environment. Zwiebel said he will never forget the sense of relief he felt when one of his lieutenants walked into the paramedic office the other day and handed him a bottle of hand sanitizer to have on his shift.
Despite the fears, despite the anxiety, he and others like him around the world still come to work every day because they know they are needed and because they remember the reason they went into health care.
"I'm grateful that I can still find joy in the job. I'm grateful to be able to contribute on the front line. I'm grateful to be a Denver Health Paramedic," Zwiebel reflected.

"With all its sacrifice, anxiety and terror – this is our finest hour. I'm a paramedic, the streets are my playground, and the people are mine to serve."