April 17-18: COVID-19 Behind the Scenes
May 08, 2020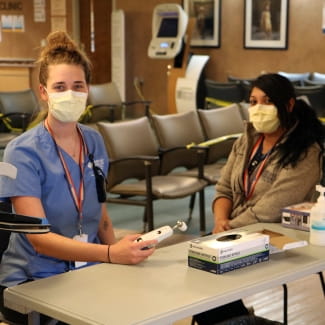 Our health care heroes are working all over Denver Health during the COVID-19 pandemic -– some of them are seen by our patients while others are working hard behind the scenes or working from home if they do not directly care for patients. No matter what physical location they work in, a lot of things have changed across Denver Health to stop the spread of the COVID-19 virus and keep all of our patients and employees safe. We still have a no visitor policy in effect and now everyone who comes into the hospital, is greeted by screeners who take their temperatures and make sure they have a mask. Our Women's Care Clinic in Pavilion C at the main hospital remains open to help women who are pregnant or have other urgent medical needs. In this photo, Women's Care Clinic medical assistants Zoe Cech and Jessica Padilla greet patients and check them for COVID-19 symptoms before their appointments. Read on for more of our behind the scenes photos and to see the rest of our blog updates-– follow along right here.
4/18/2020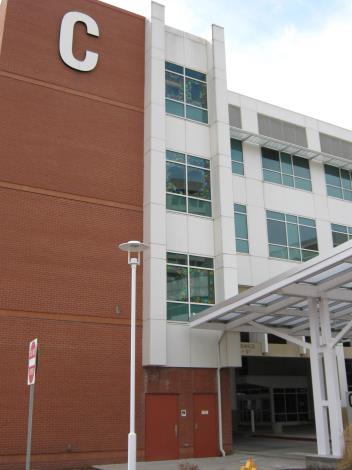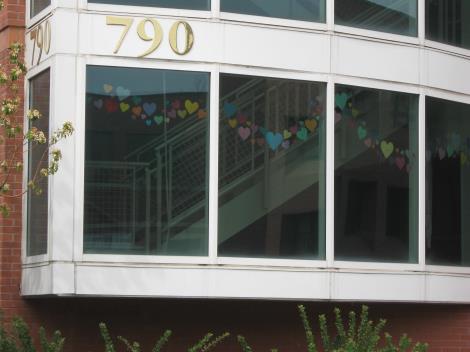 It's easy to miss, but if you look up when you're standing outside of Pavilion C you can see these handmade signs in the windows of the building, reading "We (heart) DH." The heart is prominent in Denver Health's logo and a group of our neonatal intensive care unit nurses took on this project to show solidarity with the frontline workers in our COVID-19 unit. Handmade hearts made out of colorful construction paper are also strung up in the window of the Pav. C stairwell at the corner of 7th Avenue and Delaware Street. We love caring for all of our patients!
4/17/2020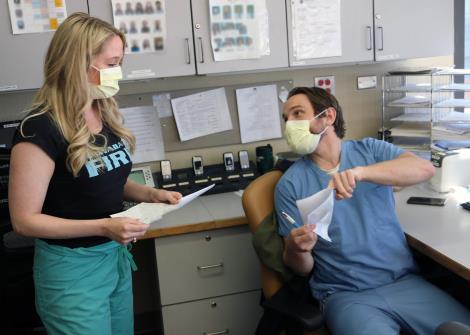 Denver Health continues to offer a wide range of behavioral health care services to patients during the COVID-19 outbreak, while taking the necessary precautions to keep everyone safe. In this picture, Dr. Bobbie Dodson, who practices both medicine and psychiatry, reviews patient plans with her resident physician, Dr. Ben Johnson. Both are wearing masks and practicing social distancing even when they are not seeing patients to protect themselves and others from spreading COVID-19.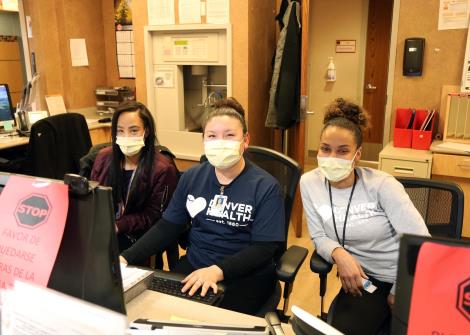 Denver Health patient access specialists (left to right) Jordyn Romero, Nidia Abencerraje and Sarah Bogan take a break from their work to pose for the camera. It's hard to tell behind the masks, but all are smiling because it's Friday!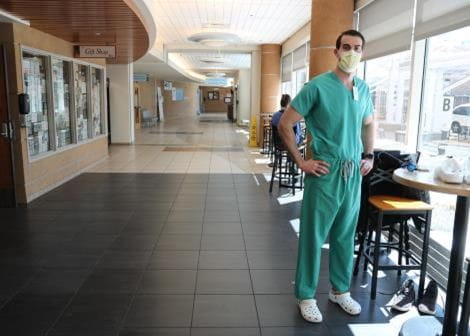 Dr. Jack Lemon is a first year resident at Denver Health who has been taking care of our COVID-19 patients. He said while his work right now is challenging, it feels incredibly rewarding when a patient leaves the intensive care unit and later gets to go home to finish their recovery. Denver Health has now treated and released nearly 300 COVID-19 patients. Dr. Lemon is wearing one of 3,000 pairs of Crocs, donated to Denver Health by the Niwot-based company to help keep employees who are on their feet for hours just a little more comfortable.