Mindfulness Exercises For Stress Relief
May 07, 2020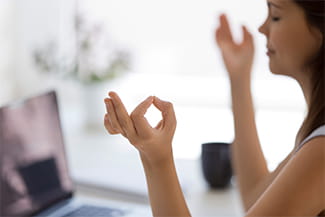 How to Best Manage Your Stress During COVID-19 & Beyond
May is Mental Health Month and many of us are experiencing heightened stress and anxiety during the COVID-19 pandemic. With social distancing and working from home now being a reality for the immediate future, it is important to recognize the importance of maintaining your mental health by taking care of yourself. Denver Health workplace well-being strategist Tracy Shea noted these four effective ways of self-care: journaling, exercise, yoga and mindfulness.
In an effort to support Denver Health staff during this time, Shea launched a daily virtual 15 minute "Mindful Moment" class last month. Each class is taught by a Denver Health employee and includes a variety of desk yoga, breath work and mediation exercises.
Stress-Relief Benefits of Practicing Mindfulness
According to HealthAdvocate, it's normal to feel distracted, lose focus and feel overwhelmed right now. Taking a break to do an exercise to keep you focused in the moment can help you better cope with stress and feel a little more in control of your life.
Studies show that practicing mindfulness on a regular basis can be profoundly relaxing. It reduces anxiety, helps lift moods, improves attention and performance, and increases an overall sense of well-being.
Denver Health diabetes educator Kayce Berke, RN is one of the Mindful Moment Class instructors and explained some of the benefits. "I have been practicing yoga for the past nine years and teaching for the past six years. However, it has been during the most recent months that I have really come to appreciate the beauty of mindfulness in a new way. Through bringing awareness to my body and breath I am rooted back into the self. I am given tools to witness what I can control, which is my presence and attitude toward external events. I have been loving sharing Mindful Moments with my fellow co-workers over the past month as a way to reconnect, re-root and come back to simple ways that we can nourish ourselves as we provide care and services to the Denver community."
Class participants feel equally rewarded. Denver Health Epic instructional designer Erin Feuerhaken said, "I am currently working from home, so I appreciate the connection I get this way."
Denise Wittsell, RN has also been working from home where she said "it is too easy to forget to take a break or eat during my day. The Mindful Moments are really helping me take a minute to chill out, drop some of the tension I haven't even noticed and finish the day with renewed energy."
Mindfulness Exercises and Tips to Try
One of the easiest ways to be mindful is to take time to focus on your breath. Here are some tips on how to practice this mindfulness technique from HealthAdvocate:
Find a quiet place to sit for five minutes, and close your eyes if you want
Relax your stomach, shoulders and jaw and begin to focus on your breath flowing in and out
Don't force it – if your mind wanders from your breath, bring it back by saying to yourself "I breathe in and I'm calm," and on the exhale say, "I breathe out and I let go"
If intrusive thoughts arise, observe them like clouds drifting by without judgment, and return your attention to your breathing
Additional mindfulness techniques include focusing your full attention on everyday objects like a tree, or on simple activities like eating. On your lunch break, try eating mindfully. Take an orange or clementine, for example, and peel it very slowly, noticing the texture and color of each wedge and the fragrant aroma of the fruit. As you take a bite, savor the taste of the juice on your tongue, and so on. This classic mindfulness technique is a good way to practice focusing your mind on the moment.
Mindfulness Tools and Resources
Shea offered these additional mindfulness tools and resources on other exercises you can try:
Denver Health can offer additional help if you feel you need more strategies on how to cope with controlling your anxiety. We are offering telehealth appointments with our behavioral health providers, over the phone, to encourage social distancing and stop the spread of COVID-19. New or current Denver Health patients can make an appointment by calling 303-436-4949 or online through the free MyChart app.