COVID-19 Variants: Omicron (What You Need to Know)
January 13, 2022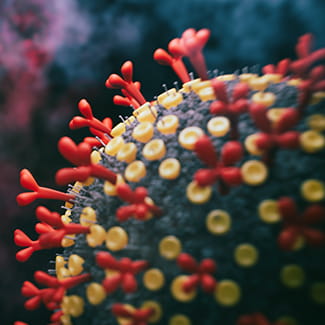 Omicron, Delta, COVID-19 and SARS-CoV-2 are household names. As frequent as they appear in conversation, there is widely distributed misinformation regarding COVID-19 variants. Denver Health is committed to providing our community with accurate and timely information regarding COVID-19, its variants, how they compare and how you can protect yourself and those you love. In a previous blog, we discussed the implications of COVID-19 variants, and steps you can take to stay healthy. Since then, the introduction of the Omicron variant has heightened the importance of taking steps to stay safe.
The Omicron variant vs. the Delta variant
The Omicron variant is a mutated version of the COVID-19 virus. Viruses mutate with goals of prolonging their own survival. The Omicron variant spreads more easily than the original COVID-19 virus, and its variants, including Delta. We do know that in vaccinated individuals, the Omicron variant spreads more easily than other variants so far. Despite the highly infectious nature of the Omicron variant, vaccinated patients are less likely to become hospitalized.
The Delta variant is also a mutated version of the COVID-19 virus. It is less infectious among vaccinated people than the Omicron variant but has shown to cause more severe symptoms in infected individuals.
The risk to unvaccinated people remains the same when exposed to any of the variants.
Fight Omicron: Mask up, Vaccinate, Booster
Wearing a mask continues to be one of the main recommendations by Denver Health providers. Wearing a mask when indoors, within six-feet of other individuals and within areas of high transmission can help slow the spread of the Omicron variants and save lives.

Getting a COVID-19 vaccine usually protects against severe illness, hospitalizations and deaths due to infection with the Omicron variant. However, breakthrough infections are possible. Continuous prevention of this severe disease is critical, as the virus is constantly mutating, and new variants of the virus are expected to occur. If you are eligible, make an appointment for the booster. Vaccinated adults and children/teens age 12 and up are eligible to receive the booster shot five-months after getting a COVID-19 vaccine.
Wearing a mask, getting vaccinated and getting boosted are the best ways to protect yourself and others around you.
For more information on vaccine appointments, click here.