Monkeypox in Colorado: Spread, Symptoms and Prevention
August 23, 2022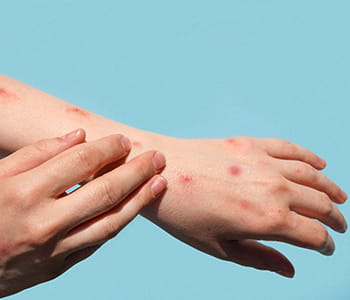 Monkeypox cases are exponentially increasing nationwide. So much so that the disease's rapid spread was recently declared by the Biden administration and World Health Organization a Public Health Emergency. Dr. Sarah Rowan, an infectious disease expert at Denver Health, noted that while this designation brings more attention and funding to monkeypox treatment and research, more needs to be done to slow further spread of monkeypox in our communities.
The Center for Disease Control (CDC) reports that, as of mid-August 2022, Colorado makes up 1% of total United States cases. Colorado's confirmed case load is 111 as of August 22and the total reported for the entire United States is 11,182
While Colorado monkeypox diagnoses are only a small percentage of total US cases, trends in other states, such as California and New York, indicate that continued increases in monkeypox cases are likely. It is important for Denver visitors and residents to recognize the signs and symptoms of monkeypox so we can help people get treatment and prevent further transmission.
How Does Monkeypox Spread?
Close, prolonged contact with a lesion or skin-on-skin contact with a person who has monkeypox is the most likely way for a person to get the virus. Currently, providers are seeing the highest rates of monkeypox in men who have sex with men.
However, Dr. Rowan explained that anyone could contract monkeypox, not just those who are currently being defined as being in higher risk groups.
"These are the transmission groups that monkeypox has occurred in first … there is nothing about these folks that make them more vulnerable to monkeypox necessarily. This is just the transmission circle that monkeypox is in now, but anyone can get it if they have close physical contact with a person who has an active case."
Monkeypox Symptoms
Monkeypox can present with a combination of symptoms ranging from painful fluid-filled bumps with a firm base, to painless lesions, blisters, or scabs. It can also cause fever, sore throat, swollen lymph nodes in the groin, rectal pain, and severe headaches.
Although it might be more tempting to stay at home and ride out the symptoms, Dr. Rowan recommended making an appointment with your primary care provider or going to a Denver Health Urgent Care if you have symptoms and suspect you may have been exposed to monkeypox.
How We Test and Treat for Monkeypox
While monkeypox typically resolves on its own within two to four weeks after the onset of symptoms, it is important to see a provider so you can get a test to confirm the diagnosis and rule out other things that might be causing your symptoms. Any provider at Denver Health can test for monkeypox by swabbing a lesion. If the monkeypox test is positive, a doctor may prescribe an antiviral treatment that could help speed up your recovery.
How Is Monkeypox Like COVID-19?
Ultimately, Dr. Rowan stressed that the monkeypox virus is not as highly contagious as COVID-19 since it is not typically spread through respiratory droplets. Because it doesn't spread as quickly as COVID-19, widespread shutdowns are unlikely.
Dr. Rowan also noted that monkeypox has a very low hospitalization rate and an even lower death rate. Part of this is due to existing knowledge about the virus, "Monkeypox is a known disease. We have existing vaccines and treatments, which we did not have at the start of COVID-19," Dr. Rowan stated.
However, she did stress that the more people who are displaying monkeypox symptoms get tested, the quicker public health experts can help to mitigate the spread and limit the impact of monkeypox in the Denver community.
Denver Health's Supplies and Monkeypox Vaccine Distribution
Denver Health is prepared to treat the monkeypox outbreak with well-stocked PPE, monkeypox tests, and antiviral medication. However, vaccines are scarce, and because of that, are being distributed amongst the highest risk groups first. This currently includes those who are over 18 who have had close physical contact with someone who has monkeypox or suspected monkeypox. Transgender women and men who have sex with men are also eligible for the vaccine if they've had new or multiple male partners in the past 14 days.
How to Get A Monkeypox Test
Please call Denver Health's appointment line at 303-436-4949 if you are experiencing symptoms or call ahead to one of Denver Health's Urgent Care locations so the providers can prepare for your arrival and quickly triage you to a room. If you are an existing patient, you can also contact your primary care provider through your MyChart account.