The Meaning of Overdose Awareness Day 2022
August 31, 2022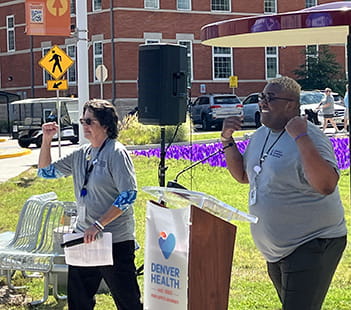 Jason felt like his life was over before it had begun. Twenty-two years old, unable to keep a job, and spending his time and money maintaining a heroin habit, Jason wanted more but didn't know how to stop using.
As a psychiatrist working in the emergency department (ED) at Denver Health, I was equipped to help. Through the support of Mayor Michael B. Hancock's Office, our team had recently begun offering addiction treatment on-demand with buprenorphine, available 24/7, to persons who need addiction treatment. Jason's mother saw the program on the local news and brought him in to the ED—she sat in the waiting room while Jason took his leap of faith with our team.
This story is familiar to many thousands of people and families in Denver and Colorado. When I saw Denver's latest overdose death data, my initial reaction was one of shock, followed by sadness for what those numbers represent: From 2019 through 2021, the incidence of drug overdose deaths in Denver has more than doubled even adjusting for population growth. Opioid-related overdoses have increased 131%; methamphetamine-related overdoses, 188%.
It is easy to recount various hypotheses for how we got here: increasing social and economic stressors, carelessness with prescription opioids, inequities in accessing care, COVID. The bottom line is that we're losing more of our loved ones, year after year.
Every August 31st, Overdose Awareness Day is a moment to recall the personal losses of this overdose epidemic. It is a moment to reflect on the need to do better. And it is also a moment for us to share hope and consider why this is a public health catastrophe that we can reverse.
Why I have hope:
Evidence-based medication treatment is more accessible than ever. Buprenorphine (or Suboxone) and methadone are life-saving treatments for opioid use disorder. These medications prevent withdrawal, cravings, and the social consequences of addiction. The Denver Health ED program where I treated Jason has started 684 patients on methadone or buprenorphine since September of 2019. Every ED, detox, and crisis center in the state should offer this level of treatment.
Our public leaders get it. Fighting the overdose epidemic requires not only money but also regulatory flexibility, creative policymaking, and political perseverance. The Drug Enforcement Administration (DEA) has allowed greater flexibility in who can prescribe Suboxone. Colorado has made naloxone—an intranasal spray that reverses opioid overdoses—available without a prescription, and our ED gives it freely to patients. In Denver, patients at the City and County jails start treatment with Denver Health providers and can continue treatment immediately upon release.
We are adapting to the epidemic's new challenges. The arrival of fentanyl to Colorado has made us reconsider the science of addiction treatment. For example, starting Suboxone in a patient using fentanyl poses a heightened risk of precipitated withdrawal. At Denver Health, our providers have become adept at innovative low-dose Suboxone induction techniques, and our ED now offers methadone starts as well as buprenorphine. Our treatments work as well for fentanyl use as for other opioids, but people are still being told, "You can't start treatment while using fentanyl," among other misconceptions. We must make it more obvious to the public how to get addiction treatment including through the new 988 crisis line. This accessibility is particularly important for underserved or minority communities who have experienced a disproportionate increase in overdose deaths.
Mental health and medical providers are getting in the game—if slowly. We do not expect every doctor to perform heart surgery—but we do expect everyone in healthcare to recognize the signs of a heart attack, perform CPR, and get help. Similarly, every healthcare provider must recognize and triage substance use disorders even if they are not providing formal addiction treatment. Persons with addiction are still excluded from many mental health treatment programs. In Denver, only Denver Health and the Veterans Affairs health system offer contingency management, a psychotherapy that is the best evidence-based treatment for methamphetamine use.
Jason started Suboxone in the ED that day and began counseling the next day in our outpatient addiction treatment program. Years later, I no longer treat him but am proud for what that one moment represented for him, our community, and the future of health care.
I want our treatments to be better, and they will improve. I want more people to access care, and more people can. The challenges ahead of us are great, and on this Overdose Awareness Day, let me share my confidence that we will save many lives, one patient and one family at a time.
Dr. Simpson is Medical Director of Psychiatric Emergency Services at Denver Health. He is a Principal Investigator of BEAT Meth, a multi-million dollar project funded by the CDC and led by Denver Health's Center for Addiction Medicine to improve the treatment of methamphetamine addiction.