Overdose Awareness Day 2023
August 31, 2023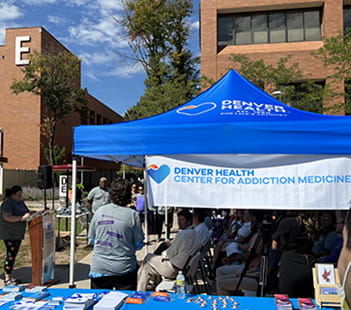 Lisa had spent more of the last six months in hospital beds for her chronic heart disease than she had on the streets she returned to after discharge. Hustling to keep herself out of withdrawal, find food, and locate a safe place to stay, she had little time to manage her chronic medications, which were often lost or stolen. Lisa enrolled in Denver Health's opioid treatment program (OTP) in March, and since then, she has been hospitalized just once. She's taking medications regularly, eating better, and has stabilized her opioid use, avoiding withdrawal symptoms that strained her heart.
The benefit of long-acting opioids like methadone to treat individuals with opioid use disorder has been proven by hundreds of studies conducted over six decades. Methadone saves lives, with an estimated 2/3 reduction in risk of death. Methadone also lowers the risk of contracting Hepatitis C, HIV, and other acute and chronic blood-borne infections that cause devastating health consequences and cost the medical system hundreds of millions of dollars each year. Beyond overdoses and infections, what you may not know is that methadone, and its cousin treatment buprenorphine, also reduce the risk of other non-opioid risks, including deaths from alcohol use, cancer, cardiovascular disease and suicide. Lisa's example helps us understand why.
Methadone stabilizes the brain, helping patients extricate themselves from the vicious cycle of binge intoxication, withdrawal, and preoccupation that comes to control the lives of many with severe substance use disorders. Stabilization gives bandwidth back to the executive function center of the brain, which can be a precondition for addressing other basic needs like food, shelter, and other health concerns. Enrolling in regular care provides structure and supports that can help motivate and encourage individuals to plan and execute their goals, while providing direct connections to resources like food banks, housing lists, and primary and specialty care.
Primary care providers (PCPs) at Denver Health and across Colorado have stepped up in response to the opioid crisis by adding buprenorphine-based opioid use disorder (OUD) treatment to the primary care setting. Beginning in 2016, Denver Health began training providers and adding co-located substance treatment counselors to each primary care clinic. Denver Health providers were also instrumental in helping to educate colleagues around the state. And yet we can do so much more.
The rise of illicitly manufactured fentanyl has caused an unprecedented increase in overdose deaths. Last year, 244 people died of fentanyl overdose in Denver alone and 2023 is on track to be even worse, as fentanyl increasingly impacts young adult and adolescent populations and communities of color. Fentanyl has also made induction onto buprenorphine more difficult, with some patients not able to successfully induct or stabilize.
Primary care clinicians and patients must have immediate, barrier-free access to methadone treatment. Yet a network of state and federal laws limit methadone's availability to highly regulated OTPs, like the one located on Denver Health's Bannock Street campus.
Denver Health's innovative solution, thanks to federal grant dollars administered by Signal Behavioral Health, is rolling out a mobile opioid medication assisted treatment (MOMAT) unit. An extension of our OTP, this unit will be co-located at two of our primary care clinics, the Eastside and Westside Family Health Centers. The MOMAT will provide the option of methadone treatment to current primary care patients in need. It will also strengthen connections to primary care for some current methadone clients who haven't previously engaged, allowing them to receive chronic disease management and other crucial services such as dental checkups, family planning and more. For many patients like Lisa, stabilization on methadone is the prerequisite, but having the immediate connection to holistic and comprehensive primary care will have a profound impact on other health conditions and quality of life.
Primary care connection reduces morbidity from medical illness and health disparities, but beyond that, primary care may just be the best place to receive addiction treatment. In addition to reducing shame and stigma by integrating treatment into routine medical care, PCPs are already experts at screening for substance use disorders like tobacco and alcohol use. And treatment of substance use disorders in this setting responds at rates similar to other chronic diseases like diabetes and hypertension. Until the laws change to allow direct access to methadone outside of OTPs, we're excited to connect our MOMAT to the primary care setting, to ensure that our primary care patients with OUD have every treatment option available to them in the midst of this profoundly dangerous epidemic. And we're excited that current methadone clinic patients, like Lisa, can thrive with the highest quality integrated primary care in Denver.