Denver Health chaplain starts library for patients in correctional care
November 08, 2023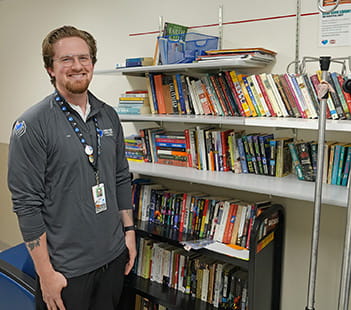 Familiar names have been showing up at the Correctional Care Medical Facility lately.
Mark Twain, Herman Melville and Richard Dawkins to name a few. Their presence has been a welcome part of the CCMF "ecosystem," according to Denver Health chaplain Luke Howard.
Luke started a library in the CCMF, in the basement of Pavilion B, over the summer. The library – a few shelves in a storage closet – has more than 400 books, most of them donated by Denver nonprofit BookGive.
"Staff have told me repeatedly how much of a positive impact the library has, both for them and the patients," Luke said. "Patients tend to be more pacified with a book in their hands, which makes everyone's jobs easier. Nurses often grab books off the shelf for patients, which creates a positive atmosphere around these interactions."
The library brings the possibility of choice and control to a population who have little or no control over much else in their lives, Luke said. When he rolls up to patients' rooms with a book cart and offers them a choice, "their whole demeanor shifts."
"Beginning the interaction from a place of service to them earns me some credibility and trust, which starts the care relationship off on a good foot," he said.
Luke enjoys making book recommendations based on a patient's interest. Popular authors include James Patterson, Dean Koontz and Terry Pratchett. Andy Weir's "The Martian," about an astronaut who becomes stranded alone on Mars, is a favorite among patients.
Luke, who loves books and reading, also offers patients the opportunity to fill out book-review forms that will stay with the book and help other patients learn about them. It's one more small gesture that shows their opinions are valued.
Luke said that even patients who can't read – a common occurrence – are engaging with the library. These patients are often dismissive when they see the book cart, but most of them change their tune when Luke offers them visual-heavy magazines or picture books.
Before being hired as a chaplain two years ago, Luke did an internship at Denver Health and "fell in love immediately," he said. When he's not helping patients in the CCMF, he's usually in the Emergency Department.
Denver Health Director of Spiritual Care Rebecca Scull, MA, BCC, said she is "proud of the way chaplain Luke saw a need and created a unique way to serve the needs of our patients in CCMF."
"The library is just one example of how chaplains accompany patients on their whole health journey, not just in times of crisis," she said.