Department of Orthopedics Residency Program
In conjunction with the Colorado University School of Medicine Orthopedic Surgery Residency Program, Denver Health accepts seven PGY-I residents each year. Each PGY-I resident will rotate at Denver Health within orthopedics for approximately 6 weeks. First year rotations provide exposure to the surgical and medicine-based sub-specialties that are a key part of orthopedic surgery training.
PGY-II residents will develop basic operative and diagnostic skills with exposure to traumatic and adult orthopedics.
PGY-III residents have been offered an elective rotation this year with several residents working along with the hand specialists within the Department of Orthopedics.
PGY-IV residents are exposed to specialized areas of orthopedics surgery, specifically hand surgery.
PGY-V residents are considered chief residents with a large emphasis on leadership. These residents assume greater responsibility in the organization of services, teaching, and education in advanced surgical techniques. PGY-V residents will take call alongside the Navy resident, who will rotate within the Department of Orthopedics through a program in conjunction with the US Navy based in San Diego, CA.
Each resident is required to attend Fracture Conference every Monday, Tuesday, Thursday & Friday morning along with a series of lectures/grand rounds. To see the 2021 - 2022 Lecture Series, click on the button below.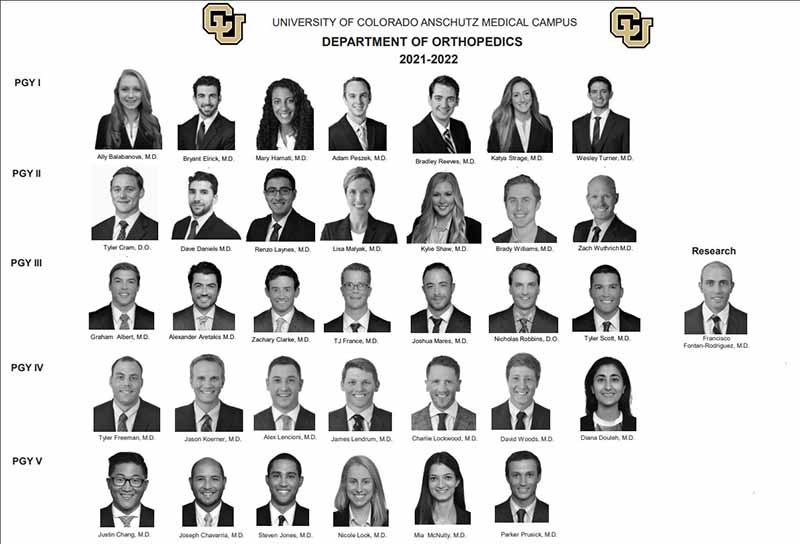 2021 - 2022 Lectures
University of Colorado School of Medicine