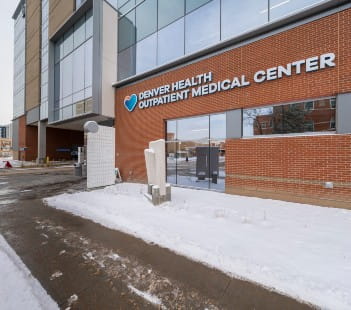 Adult Urgent Care Center
Adult Urgent Care Center
660 N. Bannock St., Pavilion L, Floor 1
Denver, CO 80204
Walk-Ins Welcome
303-436-6000

The Adult Urgent Care Center has moved. Now open on the first floor, north wing of the Outpatient Medical Center at 660 North Bannock Street, Denver, CO 80204.
Adult Urgent Care Center Walk-In Clinic
The Adult Urgent Care Center located near downtown Denver, Colorado, on the main Denver Health campus and provides urgent care services for those who are in need of care after business hours or who cannot be seen by their primary care physician.
The Adult Urgent Care Center is designed to be an alternative to the Emergency Department when your regular provider is not available. We suggest that you contact your provider or the NurseLine at (303) 739-1211 before seeking care.
The Adult Urgent Care Center can be found on the first floor, north wing of the Outpatient Medical Center, located at 660 Bannock St. in Denver, also known as Pavilion L. You will find the entrance on the north side of 7th Avenue, clearly marked as the Adult Urgent Care Center entrance.
Urgent Care Hours
7 a.m. - 7 p.m., Monday - Sunday
Urgent Care Services
A few of the common non-emergent illnesses and injuries we treat include:
Minor injuries
Fractures/Sprains
Severe colds, flu and fevers
Coughs and asthma
Sore throats, ear aches and other respiratory problems
Minor cuts and abrasions
Back, joint or muscle pain
Abdominal pain
Altitude Sickness
Skin rashes and other allergic reactions
Gynecologic problems
Children's Urgent Care and Emergency Care
Urgent care for kids is provided at the Denver Health Downtown Urgent Care and at our Pediatric Emergency Department and Urgent Care Center, which has a separate entrance and location for specifically treating children.
If you think you are experiencing a health emergency, please call 911 or visit the emergency room immediately. Have questions about if you should go to urgent care or the emergency room? Call our 24-hour, free Nurseline at 303-739-1211.