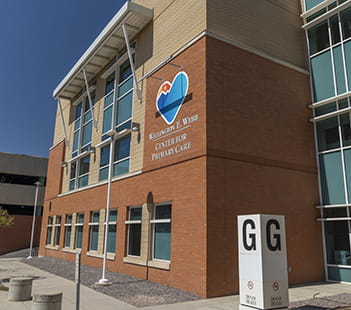 Webb Center for Primary Care
Wellington Webb Center for Primary Care
301 W. 6th Ave.
Denver, CO 80204
303-436-4949
303-436-6000
1-866-347-3345


Maps & Directions
Office Hours
Pediatric Dental Clinic (Third Flood)
Monday-Friday 8 a.m. to 5 p.m.
Webb Adult Hours (Second Floor)
Monday-Friday 8 a.m. to 5 p.m.
Webb Pediatrics Hours (First and Third Floor)
Monday-Friday 7:30 a.m. to 5 p.m.
Saturday 8 a.m. to 12 p.m.
Pharmacy Hours (First Floor)
Monday - Friday 8:30 a.m. - 6 p.m.
Closed Weekends
The Webb Center for Primary Care, located on Denver Health's main campus, is a large outpatient facility that houses primary care clinics for adults and children, as well as a pediatric dental clinic, pharmacy, outpatient behavioral health services and health information management.
The center is certified as a Patient-Centered Medical Home, which means patients take an active role in their health care and have access to care that is coordinated between different services.
The Webb Adult clinic offers medical services to adults 19 and older — to meet all your primary care needs, as well as help with family planning and care for adults over 65.
The Webb Pediatrics clinic provides primary care services for newborns up to 18, and is staffed by a care team that understands the needs of children. Also at Webb Pediatrics, new mothers can receive breastfeeding guidance from a pediatrician and nurse who specialize in nursing. Webb Pediatrics also provides specialty services for Denver Health Children and Youth. The clinic is located on the first and third floor of the building.
Webb Clinic Services
Primary care clinic — adult and pediatric
Pediatric dental clinic
Pediatric specialty care
Enrollment specialists for health insurance
Title X family planning — including birth control
Full-service pharmacy
HIV and pre-exposure prophylaxis care
Substance abuse care and treatment
Mental health
Geriatrics
Language interpretation services, including a site-based certified Spanish interpreter
Free parking at Delaware Garage
Clinic List
Learn more about each of these clinics that are housed within the Wellington E. Webb Center for Primary Care:
Webb Adult Clinic - Second Floor
Burgundy Team: (303) 602-8070 G
Green Team: (303) 602-8080
HIV Care Appointments: (303) 602-6443
Appointment Line: (303) 436-4949
Services include:
Adult Primary Care
Family Planning (Title X)
HIV Care
Webb Pediatrics Clinic - First and Third Floor
Clinic: (303) 602-8340
Appointment Line: (303) 436-4949
The Pediatric Clinic in the Webb Center for Primary Care is designed to meet the medical need of children of all ages. The staff includes pediatricians who are specially trained to know and understand the needs of children.
Download education and residency information about the Webb Pediatrics Clinic providers.
Services include:
WIC
Behavioral Health
Pediatric Care - Wellness and sick care
Breastfeeding Support for New Moms
Birth Control
Transgender services