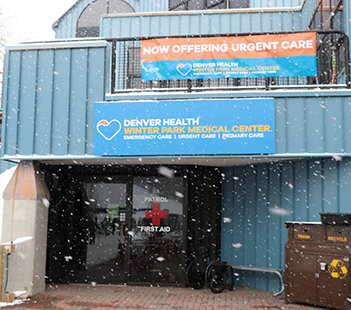 Winter Park Medical Center
Winter Park Medical Center
145 Parsenn Rd.
Winter Park, CO 80482
970-726-4299

Maps & Directions
Office Hours
Monday - Friday: 9:00 am to 5:00 pm
Saturday and Sunday: 8:30 am to 5:00 pm
Emergency Care, Urgent Care, Sports Medicine and Primary Care
The Denver Health Winter Park Medical Center is a unique medical facility located at the base of Winter Park Resort. We are an emergency, urgent care, sports medicine and primary care facility. We serve resort guests and staff, visitors and the community living in Grand County and the surrounding areas.
Our medical staff is expertly trained to see patients with routine medical needs such as well visits, immunizations, or prenatal care, but we are also equipped to provide urgent and emergency care when needed. Patients who present at the medical center are triaged to either emergency care or urgent care depending on their condition. Primary care and sports medicine services are offered through appointments.
As your local family health center, we strive to provide high-quality care at a reasonable price to our community. The most affordable option is to schedule an appointment for a routine clinic visit with primary care services. We can accept walk-ins, however, during times when the clinic is very busy or when our daily appointments are full, we consider all walk-in patients urgent care or emergency patients - this means that emergency or urgent care co-pays and other charges will apply. If your injury or illness is truly minor, we will have an appointment available within 24 hours of your call in most cases.
We are open year round, but our schedule is seasonally-based, and our hours change throughout the year. A medical provider is always available during hours of operation. We accept most insurance plans.
Primary Care Services
We provide high-quality routine medical care for the community in Grand County and surrounding areas. You can see our board certified physicians and nurse practitioners for all primary care services such as annual wellness exams for adults and children, immunizations, and prenatal care.
Men's Care/Well Male Exam
Women's Care/Well Woman Exam/Annual Exam
Prenatal Care
Pediatrics/Well-Child Exam
Sick Visits (Pink Eye, Cough, Cold, Fever, Flu, altitude sickness)
Chronic Illness Management (diabetes, heart disease, etc.)
Immunizations including child vaccinations and flu vaccine
Radiology Services (X-ray, ultrasound, electrocardiogram, cardiac monitoring)
Workers' Compensation
Sports Medicine
Our board-certified sports medicine practitioners can treat a range of activity-related injuries and inflammations including:
Knee pain
Shoulder pain
Elbow injuries
Hip pain
Back injuries or chronic pain
Arthritis
ACL and other ligament injuries
Sprains and strains
Urgent Care Services
The addition of urgent care services means patients who don't need immediate emergency care but need to see a physician within 24-hours now have an affordable option at the mountain.
Infections
Fever
Rashes
Sore throats
Earaches
Minor injuries
Sports injuries and more
Emergency and Trauma Services
When your family provider is not available or you are far from home, our facility is staffed with board certified physicians and nurse practitioners who provide trauma and emergency care. Our staff is equipped to evaluate and stabilize patients and initiate a fast response in cases when a higher level of care is needed. We are affiliated with Denver Health, a renowned regional Level I Trauma Center, and Level II Pediatric Trauma Center, with some of the best outcomes in the nation. Our physicians will coordinate the transfer to a higher level of care when needed.
Broken bones
Accidents
Severe abdominal pain
Seizures
Neurological issues and more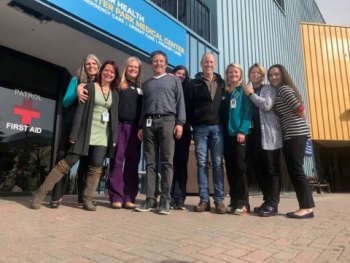 Clinical Team
Family Medicine Doctors
Emergency Medicine Doctors
Urgent Care Doctors
Sports Medicine Doctors
Nurse Practitioners
Nurses
Radiology Technicians
Parking
Patient parking can be found at the base of Winter Park Resort next to Ski Patrol, directly behind the medical center.