Denver Paramedic Division Sets New Records for One-of-a-Kind Wildland Fire Team Deployments
August 22, 2017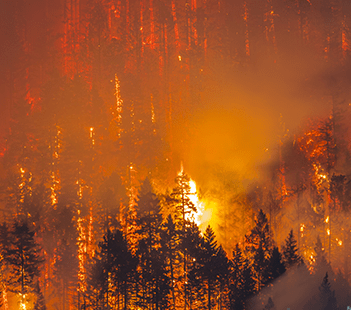 August 12 and 13, the Denver Health Paramedic Division deployed fireline paramedic Will Berry to the Pole Creek Fire in Kemmerer, Wyo., and radio operator Adam Ellis to the Gibralter Fire in Eureka, Mont. In doing so, the Division's unique Wildland Fire Team, which sends specially-trained paramedics to active wildfires across the United States, extended new high's reached in 2017 for number of deployments.
In the Team's four-and-a-half-year history, never has it deployed more than 13 times in a single season, but by the midpoint in the 2017 season, it exceeded that mark, sending a total of 15 paramedics and support personnel to active wildfires. Berry and Ellis raised the number to 17 by mid-August, adding new states and regions to the list for the first time. By mid-August of 2017, the Team has deployed paramedics to all but three of the United States' regions, rendering support to wildfires in 10 states, including Alaska. The Division has also deployed locally, most recently sending three people to the recent wildfire in Breckenridge.
The Division's ground-breaking Wildland Fire Team puts a new spin on medical aid typically summoned to active wildfires by taking trained, experienced paramedics, people who run an average of 2,000 calls per year in a busy city, and provide them with fire training then send them to base camps to provide medical support. This is not being done anywhere else in the country, as generally, line firefighters are given some additional medical training and designated medical support at wildfires.
Our paramedics bring advanced medical care to wildfires," Denver Health Paramedic Division Cptn. Josh Kennedy, one of the founders of the Wildland Fire Team, said. "When it comes to medical decisions, they have improved decision-making skills and they can make difficult decisions quickly. These men and women take expert training, combined with valuable experience running calls on the streets of Denver, to wildfires all over the U.S. and it's really raising the bar in a dangerous environment."
Also this year, for the first time, the Team is supplying dispatchers who bring their brand of expertise to wildfires to help with technical challenges associated with communication coordination and the many devices and all the technology that goes with it.
The team, which started in 2013 after a couple high profile incidents at wildfires in California, has expanded from its original 14 members, adding 18 in 2016 and subtracting those who rotated out, to its current total of 23. Members of the team are screened based on background and ability then trained to work as line firefighters. They have to pass physical tests and complete classroom work to learn, among other necessities, advanced fire behavior, a part of the training Kennedy said he hopes expand in the near future.