Denver Health Receives Award for Organ and Tissue Donation Achievements
September 28, 2018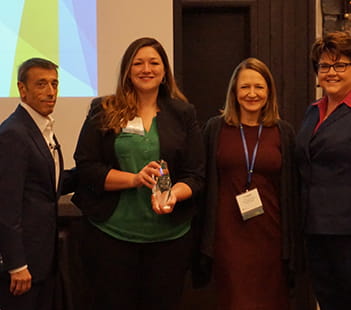 Denver Health is proud to receive the 2018 Ending the Wait Award for its outstanding achievements in facilitating the gift of life through organ and tissue donation in Colorado. On September 14, at a ceremony in Vail, Donor Alliance, the federally-designated organ procurement organization serving Colorado, and the Colorado Hospital Association presented the award to Denver Health Chief Medical Officer Connie Price.
Last year, 16 organ donors from Denver Health donated 49 organs that were transplanted to save lives locally and across the country. The award is given annually to a hospital that demonstrates excellence in helping facilitate the gift of organ, eye and tissue donation. Four other Colorado hospitals – Swedish Medical Center, Boulder Community Health, Parker Adventist Hospital and Montrose Memorial Hospital were also honored for their achievements.
The awards were created in 2008 to recognize the commitment of Colorado hospitals, medical centers and healthcare professionals to saving lives through organ and tissue donation. The selections are awarded annually and based on hospital size, trauma center designation total number of donors and organs transplanted.