Denver Health Paramedics Praised for Home Delivery
October 08, 2018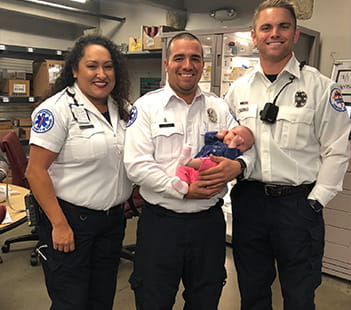 First-time mother and Denver Health patient Kayla Gardner didn't expect to go into labor at home, but on August 28, 2018, that is exactly what happened.
After a call to 911,
Denver Health Paramedics
arrived just in time to deliver the baby girl and safely deal with what could have been a serious complication – removing the umbilical cord from around the baby's neck.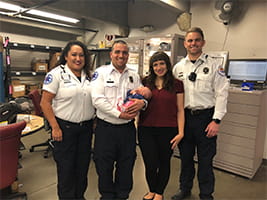 After the delivery, paramedics took mom and the newborn baby to Denver Health, where Gardner had been receiving her
prenatal care
. Both are now healthy and doing well.
Nearly a month after the delivery, Gardner and her family returned to Denver Health to thank paramedics Analaura Lenz, Sebastian Naranjo and Jarrett Dale for their calm and supportive care during a serious situation.
The paramedics presented the new mom and baby with a few small gifts, including booties and a onesie that said "future paramedic."