How a Mammogram Can Save Your Life
October 19, 2018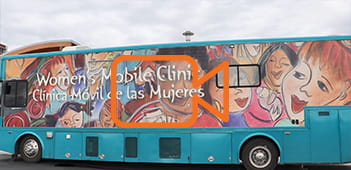 Schedule Your Appointment at the Women's Mobile Clinic Today
October is Breast Cancer Awareness Month, and today is National Mammography Day, which is a great time to remind the women in our lives to get screened for breast cancer.
Denver Health's
Women's Mobile Clinic
has been providing mammograms in Denver for more than 15 years. The clinic travels to different locations around the city, making it more convenient to get these life-saving, important screenings. Its staff screens more than 3,000 women for breast cancer every year.
A mammogram detects breast changes and breast cancer long before they can be felt or seen. According to Denver Health Mammography Technologist KimHuyen Hoang, the process takes just five to 15 minutes.
"Women should start getting regular mammograms by age 50," said Women's Mobile Clinic Program Manager Ashley Shurley, NP. "Women 40 to 49 should talk with a provider about whether they should be getting screened earlier. Screenings should happen every one to two years."
To schedule a mammogram, call a care navigator at 303-602-0482, or head over to our
Women's Mobile Clinic web page
to find out where the Women's Mobile Clinic will be stopping next. Our care navigators speak English, Spanish, Vietnamese and Arabic, and other
language interpretation services
are available.