Denver Health Paramedics Honored for Heroic Work at the First Paramedics Awards Luncheon
November 09, 2018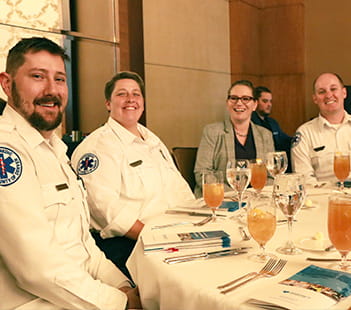 This week, the Denver Health Paramedic Division celebrated a year of hard work with a three-course meal at the Four Seasons Hotel Denver, complete with a master of ceremonies, several inspirational speeches from leaders, an awards ceremony and a live auction.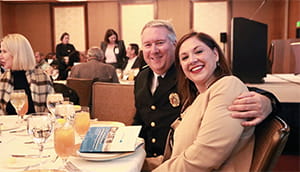 But this event wasn't just about the "bells and whistles." Three-hundred people attended the First Denver Health Paramedics Awards Luncheon, put on by the
Denver Health Foundation
and sponsored by many partners, to honor our paramedics heroic work within the community.
"We used to wear Hawaiian shirts and have a barbecue out at [the Rita Bass Trauma & EMS Education Institute] and now we've got this, and you know – our paramedics just really deserve it," Chief Paramedic Gary Bryskiewicz said. "We're so happy to all spend this day together."
Denver Health CEO Robin D. Wittenstein, Ed.D., FACHE, shared an inspirational personal story reminding everyone in the room that paramedics are the ones who are always there to take care of us in moments of panic and crisis.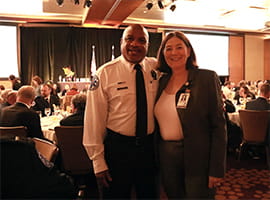 Our paramedics respond to more than 112,000 calls annually and more than 75,000 patients a year are treated and transported by
Denver Health Paramedics
. Since Denver Health's establishment in 1860, it has evolved into a comprehensive health system that is proud to have the Denver Health Paramedic Division as the sole provider of emergency medical services for the City and County of Denver, as well as residents of Glendale, Sheridan, Englewood and the Skyline Fire Protection District.
"Today is a long overdue big thank you, and we can never say thank you enough," Wittenstein said.

The live auction was a success with $6,000 raised from bidding fun experiences such as ambulance ride-alongs with the paramedics and classes on emergency preparedness and bike medic skills. Following the auction, paramedics were honored with the following awards:



Awards
Joy Stephens, Employee of the Year Award
Steve Colvin, Training Officer of the Year Award
Yolanda "Yo" Amezcua, Paramedicine Award
Hilary Cassaly, Community Service Award
Ame Lozano, Community Service Award
James Boyer, Community Service Award
Tom Ferguson, Distinguished Service Award
Steve Watson, Medal of Valor
Lt. Otis McKay, Medal of Honor
Anthony "Cap" Unrein, Gerald S. Gordon Lifetime Achievement Award
Dustin Kemerer, Legion of Merit Award
Deidre "Dee" Johnson, Legion of Merit Award