Santa is Coming to Denver Health
December 11, 2018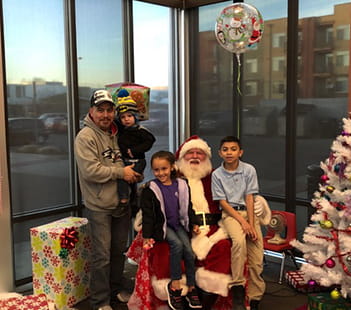 This Saturday, current Denver Health pediatric patients will get a special visit from Santa! The jolly guy will bring his Holiday Santa Express to the main hospital and to Denver Health's
Family Health Centers
to hand out gifts to the good little children who get their care at Denver Health or have to spend the holidays in the hospital. This year, for the first time, Santa will drop into Denver Health on a helicopter and then ride into the hospital and around the city in a parade with the
Denver Health Paramedics
,
Denver Firefighters
and
Denver Police
.
Denver Health's Gary Bryskiewicz, chief paramedic, and John Niemann, Community Health board member, will play the role of Santa.
The gifts are only for current Denver Health patients and have been provided by the Denver Health Foundation.
If you see Santa around town, be sure to wave hello!