What To Do If An Ambulance Is Behind You
April 02, 2019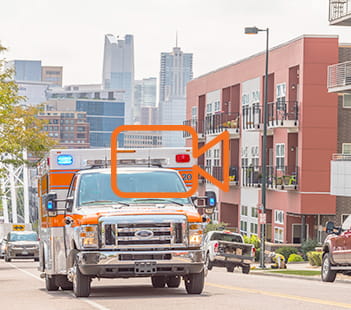 Denver Health Paramedics Clarify Pull Over for Emergency Vehicles Law
We've all noticed how Denver's booming population growth is adding more traffic to our commutes. For Denver Health Paramedics, that growth means more calls and more challenges for ambulance drivers navigating through heavy traffic to get to those calls.

Last year, Denver Health Paramedics responded to 117,630 calls. In 2016, there were just 112,406 calls.

FOX31 Denver did a ride along with the Denver Health Paramedic Division to experience the challenges under stressful conditions when an ambulance responds to a call.

"We're talking minutes and seconds that are important here," said Lt. Jake McCaig.
Many drivers don't know what to do when an emergency vehicle with lights and siren comes up behind them.
Lt. McCaig said drivers should:
Always yield to the approaching ambulance
Always pull over to the right
Never pull over to the left
Denver Health has a specialized system to help optimize a limited number of ambulances across a large jurisdiction. 90 percent of the time, ambulance drivers are required to respond to calls requiring lights and siren in nine minutes or less.