Denver Health and Chanda Center For Health Partner to Help Patients With Physical Disabilities
September 17, 2019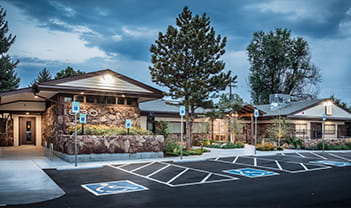 A new primary care clinic partnership with the Chanda Center for Health is allowing Denver Health to serve adults with lifelong disabilities better than ever before.
On Tuesday, some of our community health services staff, board members and leaders toured the Chanda Center for Health in Lakewood. At the 6,000 square-foot facility, adults with long-term disabilities from spinal cord injuries, brain trauma, Cerebral Palsy, Multiple Sclerosis and Spina Bifida can now receive primary care from Denver Health providers in a space that's tailored to their needs. The Center provides patients with other healing services including acupuncture, massage and yoga.

In the clinic's two-months of operation, Denver Health has already begun caring for 40 new patients and is bridging a gap in care.


"We have always done a really good job of providing acute care for trauma patients and adults with spinal cord injuries. The Chanda Clinic expands our ability to provide a full range of service to this population," said Simon Hambidge, Chief of Ambulatory Care Services and Chief Executive Officer of Denver Community Health Services.
Chanda Clinic also empowers patients to be more proactive in their preventive care, which reduces unnecessary visits to the
Emergency Department
.
The Chanda Center for Health is located at 1630 Carr Street, Lakewood, CO 80214.

To schedule your first appointment at the Chanda Center for Health, call 1-800-766-4255, ext. 1.