Breast Cancer Survivor Gives Free Haircuts to Cancer Patients
August 23, 2019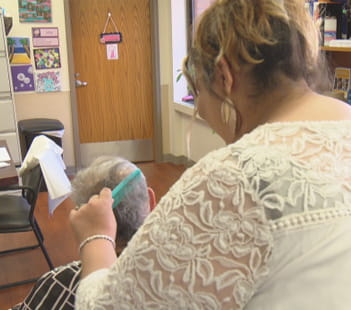 Denver Health knows that a cancer diagnosis can turn a person's world upside down. But with the unmatched support of our Cancer Care Services and the care from our experienced physicians and staff, patients at Denver Health are overcoming the disease and learning to cope.

CBS4 sat down with two of our patients to talk about their shared connection and the gift of hope they received at Denver Health.
Rosalba Castillo and Rosalba Avila Soto both came to Denver Health seeking treatment for their cancer. Castillo, who was four months pregnant at the time in 2014, underwent chemo therapy during her pregnancy. She is now living cancer free with the daughter she safely delivered.
Avila Soto was diagnosed in 2016 and continues to fight the cancer despite ongoing treatment.
The two, now sisters at heart, connected because Castillo gives free haircuts to any cancer patient at Denver Health.
"I know that I was left here for a reason," said Castillo. "That there is hope that maybe they didn't know they had."
"More than anything, she makes us feel happy," said Avila Soto.
For more information about Cancer Care Services, contact Elizabeth Bibiloni Velazquez at 303-602-6809.