Denver Health Marks Overdose Awareness Day and Educates on Addiction Treatment Services
September 03, 2019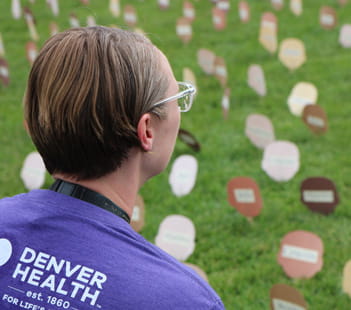 More than 100 staff, supporters and families of loved ones who died of drug overdoses marched from downtown Denver to Denver Health's main campus on Friday to raise awareness about the disease of addiction.
A visual memorial on the lawn outside the Rita Bass Trauma Institute represented the 1,111 lost to overdose last year in Colorado. Britni Edmunds, a Denver mom who found herself living on the streets and addicted to opiates, says Denver Health's Behavioral Health staff are to thank for her recovery.
"The compassionate staff at Behavioral Health saved my life by helping me believe my life was worth saving," Edmunds told the crowd of marchers.
Denver Health highlighted its new Center for Addiction Medicine at the event. The center will fight the burden of substance abuse in Denver and fill gaps in treatment for people like Edmunds.
"In a time when other places around us are getting rid of behavioral health services, we're investing in ours," said Dr. Christian Thurstone, Director of Service for Behavioral Health.
Last year, Denver Health treated 4,000 patients struggling with substance abuse. Denver Mayor Michael Hancock, who also spoke at the event, thanked Denver Health for its work in bridging the gap between addiction and treatment.
"Every one of us has been impacted by addiction," said Hancock, whose own sister struggled with addiction.
Watch the full Facebook live of the event.