The Center for Addiction Medicine at Denver Health
At Denver Health's Center for Addiction Medicine every door is an opportunity. Doors lead to new beginnings. Doors open to hope. At the Center for Addiction Medicine, there are no wrong doors. The center brings Denver Health's broad range of addiction programs and medical resources into a single place, providing comprehensive treatment options, mindful of the stigma of substance use.
The Center for Addiction Medicine is a new Denver Health initiative dedicated to combating the damage being done to our community by the disease of addiction. In 2018, more than 1,100 people died of drug overdose in Colorado. Behind every statistic is a person: a unique individual with a family and a community.
Denver Health is on the frontline of this public health crisis. From first responders and social workers to emergency and primary care providers, our system-wide continuum of care ensures patients are stabilized and successfully treated at the right level of integrated physical and behavioral health care. The Center for Addiction Medicine is bringing these dedicated professionals together in an unprecedented effort to try to prevent more deaths and increase long-term recovery.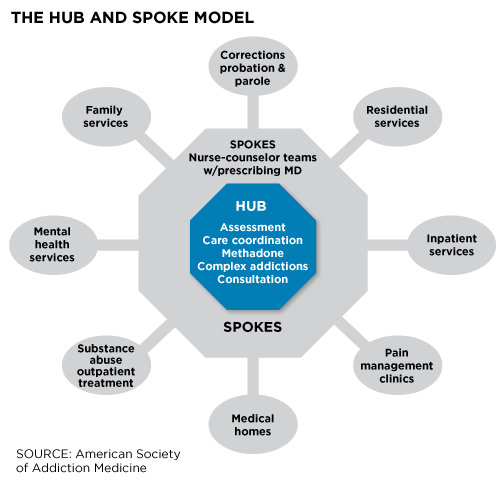 Drug Addiction Treatment Services
Treatment on Demand
The grant-funded program helps patients with opioid use disorder get medication assisted treatment (MAT) in the Emergency Department. Counselors then link patients to ongoing addiction treatment at Denver Health's Outpatient Behavioral Health Services (OBHS) or one of our partner Opioid Treatment Programs (OTP), the Behavioral Health Group or Denver Recovery Group, for next day care. This work has inducted hundreds of new patients on MAT and seen "next day show" rates at the OTPs increase significantly.

IV Antibiotic Program
This grant-funded program shortens hospital stays for patients who are known to inject drugs and are prescribed long-term intravenous antibiotics. Patients are transferred to intensive residential treatment at Sobriety House, where their addiction is treated while they continue receiving IV antibiotics and addiction treatment medication from Denver Health.

Addiction Recovery Center and Suboxone Treatment


Addiction recovery services provide treatment for non-opiate substance disorders and outpatient suboxone (buprenorphine) treatment to opioid dependent patients.

Adolescent Substance Abuse Treatment


A substance abuse treatment, education and prevention program provides outpatient, psychiatric and substance abuse treatment to adolescents ages 12-21.

Denver CARES Detoxification and Drug and Alcohol Rehabilitation


Denver CARES is a 100-bed, non-medical, clinically managed treatment facility. Our mission is to provide a safe detoxification for public inebriates and to provide assessment, education, motivational counseling and residential treatment. Denver CARES operates 24/7 with a staff of registered nurses, behavioral health technicians, addiction counselors and licensed mental health clinicians.

Methadone Clinic Opiate Addiction Treatment


Opiate addiction treatment at Denver Health provides opioid/narcotic replacement therapy utilizing methadone and suboxone (buprenorphine) for patients meeting specific criteria for admission.

Outpatient Behavioral Health Services
Outpatient Behavioral Health Services offers comprehensive addictions rehabilitation and evaluation services for treatment of non-opiate drug and alcohol substance use disorders.
The Recovery Program for Women & Families


This program is designed specifically to help pregnant women, parenting women and families who need substance abuse treatment. Each woman that comes to the program is treated with respect and offered a safe environment in which to heal.
Hours of Operation