Denver Health Partners to Open Clinic for Domestic Violence Victims
October 28, 2019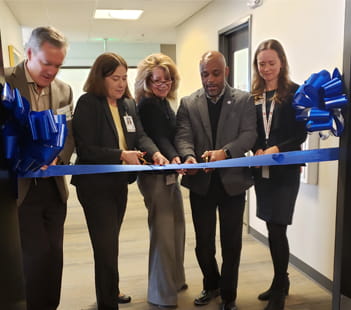 Denver Health today announced the opening of the Rose Andom Health Center inside the Rose Andom Center, Colorado's first family justice center. This clinic allows Denver Health to offer primary and women's care, as well as well-child visits on-site at the center where clients are already being connected to resources.

The Rose Andom Center improves the lives of domestic violence victims by facilitating better access to services and staff of community organizations and government agencies in a single, safe location.

"Our main campus has been providing care for clients of the Rose Andom Center since it first opened, and we are now able to provide health services in one single, central location where all of the other client resources are already housed," said Denver Health CEO Robin D. Wittenstein, Ed.D. FACHE.

Funding provided by the Colorado Health Foundation and individual donors brought Rose Andom Center, Denver Health and MotherWise together to care for parents and children seeking resources when domestic violence has happened.
The Denver Health clinic team provides full-scope primary care services to adults and children, including:
Treatment/follow-up related to injuries
Non-urgent medical concerns
Well-women visits, Pap smear, pregnancy testing, birth control and prenatal care
Pediatric sick visits and well-child checks
STI screening and treatment
On-site behavioral health staff can provide mental health care and addiction counseling
Joining the ribbon-cutting ceremony today was Denver Mayor Michael B. Hancock who played an instrumental part in getting the Rose Andom Center opened in 2016. He sees the addition of a Denver Health clinic as filling one last gap in the continuum of care for clients at the Rose Andom Center.

"This clinic will ensure that people who have been victimized are not victimized again. Instead of being told to go somewhere else, Denver Health can provide the care they need in a location they already trust and feel safe," said Mayor Hancock.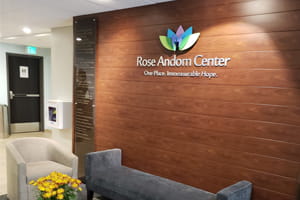 Margaret Abrams, Rose Andom Center executive director said, "In just three months, the clinic has served more than 80 clients. We have seen women getting prenatal care for the first time, getting follow up care after an assault, and receiving primary care that is long overdue for themselves and their children."
The Rose Andom Center is one of 140 family justice centers nationwide. This is only the second center in the country to provide primary care to victims and their children, forensic documentation, injury follow-up care and behavioral health services on a full time basis.
Denver Health's mission is to care for all. Any patient needing immediate emergency medical attention will be transported to the proper facility right away.