New Public Charge Rule (Updated)
April 01, 2021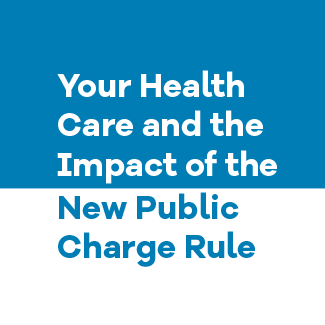 Update: On March 9, 2021, the Department of Homeland Security announced that it would stop defending lawsuits related to the 2019 public charge rule, and the U.S. Supreme Court dropped the case. This ultimately means that the 2019 public charge rule will no longer apply. The application of the public charge determination reverts back to the 1999 guidance. The 1999 guidance is much narrower in scope in terms of programs considered under the public charge rule.
The State of Colorado has a complete update on the changes to the public charge rule and what it means for Colorado immigrants with community fact sheets in 13 languages.
Original article from February 21, 2020: A change that could affect Denver Health's immigrant patients' health care choices will go into effect on Monday, February 24. Under the new public charge rule, many government benefits will count toward someone being considered dependent on government support, and therefore a public charge. If the federal government determines someone to be a public charge, their request for U.S. residency or admission could be denied.
Denver Health Welcomes All Patients, Regardless of Immigration Status
Denver Health cares about access to health care for all and that has not changed under the new rule. While our staff members will not be able to provide patients with any advice on legal or immigration issues, we are committed to making sure that all of your questions are answered.
The following are answers to some frequently asked questions about public charge, as well as resources for our patients.
Resources on Public Charge
Frequently Asked Questions and Background Information on Public Charge
What does "public charge" mean?
The federal government uses the term "public charge" when deciding who is eligible for admission into the United States or who can become a permanent resident. Public charge is applied to individuals who are likely to become dependent on the government for support. The federal rule looks at whether someone will be dependent on cash aid for income support or long-term care paid by the government. If someone is considered a public charge, their request for U.S. residency or admission could be denied. Under the new rule, many public benefits, including Medicaid, will count toward someone being considered dependent on government support, and therefore a public charge.
How does the new public charge rule work?
The new rule states that immigrants can be deemed a public charge or likely to become a public charge if they receive government-funded public benefits for more than an aggregate of 12-months during any 36-month period. Assistance programs in the public charge determination include all current public benefits such cash aid or welfare. These could expand to include Medicaid, Supplemental Nutrition Assistance Program (SNAP), housing assistance and federally subsidized housing support. The proposed rules also include state and local cash payments. Each public benefit that a person uses counts toward the total, so if someone uses Medicaid and SNAP in one month, that would count as two months of public benefits for the purposes of determining the public charge. The government also considers other factors such as English proficiency, family size, level of education, age and employment status when deciding whether someone is, or is likely to become, a public charge.
What is excluded from the new rule?
Public benefits received by family members of an immigrant are excluded in the public charge determination. Additionally, Medicaid received by applicants under age 21 or while pregnant is not considered. Benefits from Children's Health Insurance Plan (CHP+); Women, Infants and Children (WIC) supplemental nutrition program and school-based programs are also excluded from consideration. In addition, the rule does not change long-standing policies that allow immigrants to access emergency medical care and disaster relief without public charge repercussions.
Who might be affected?
The new rule applies to people seeking admission to the U.S. and to those who wish to change their status, such as those applying for permanent residency. It does not affect individuals who have already applied for permanent residency, asylum seekers or permanent residents on the path to citizenship. The change is estimated to affect 75,000 Coloradans, which could result in immigrants dis-enrolling from federal and state programs and ceasing their use of federally-funded health care services.
What are Denver Health's actions and what can you do?
Under our mission to care for all, we are proud to serve Denver's diverse community throughout the organization's 160 years in operation. As part of the community, we advocate for our patients, overcome challenges and provide the very best in care. That has not changed.