How to Help Denver Health Hospital Staff During the COVID-19 Epidemic
April 09, 2020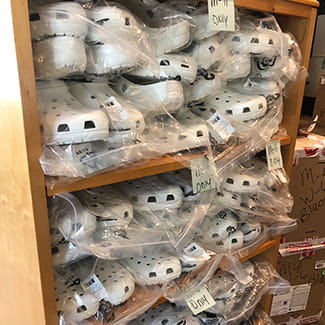 Update April 9, 2020: The feet of our front-line staff are feeling a little more comfortable thanks to a donation from Crocs. The Niwot-based company just dropped off 3,000 pairs of shoes to our doctors, nurses, CNA's and paramedics. Crocs wanted to support our response to the COVID-19 pandemic and knew that their comfortable, easy-to-sanitize shoes would be a great gift to our staff. We thank Crocs, and the hundreds of others supporters who have helped put a smile on the faces of our caregivers!
Update April 2, 2020: Denver Health appreciates the continued outpouring of support from the community at this difficult time. This week, we want to sincerely thank The Colorado Mission of Mercy for donating a truckload of Personal Protective Equipment (PPE) to our hospital staff. Their generous donation of 560 face shields and safety glasses, 1750 gowns, 27,500 masks and 17,900 gloves was captured in this CBS Denver news report.
Denver Health employee Maria Casaverde worked with Girl Scout Troop 65737 from the Denver Language School to collect cookie donations for their hometown heroes – the providers and clinical staff working at the Denver Health Family Health Centers. These cookies were distributed this week to all of our clinics.
We would also like to recognize The Junk Trunk for donating meals to our Denver Health Paramedics, Wayne's Smoke Shack for donating nearly 400 meals to our night shift workers at the main hospital, the Denver Country Club for two generous food donations this week and Maine Shack for a food delivery donation on National Doctor's Day.
Original article: Denver Health is grateful for the outpouring of support from the community with offers to help our hospital staff as we provide care during the novel coronavirus (COVID-19) outbreak. At this time, Denver Health's greatest need is for monetary donations. Those who want to help are encouraged to contribute to the Denver Health Foundation's COVID-19 Urgent Response Fund. Donations will go primarily to help support these four critical areas:
Equipment and capacity
Health care worker relief
Food Donations During COVID-19 Outbreak
Denver Health is also grateful to those manufacturers and companies who have donated supplies and food to feed our staff.
Food donations have come from all over Colorado, including energy bars provided to all staff by Fourpoints, a donation of salads and wraps for lunch from Del Frisco's Grille and 160 meals given to Denver Health team members by Restaurant Olivia.
If you wish to donate food to Denver Health, Volunteer Services is coordinating and accepting all donations to ensure that it does not all arrive at one time or at hours when we do not have staff. Please note that the food must be made in a professional kitchen and each item needs to be individually wrapped and dated with the date it was created.
If you wish to donate food to Denver Health, please call 303-602-2926 or email Amy Friedman at Amy.Friedman@dhha.org.
PPE, Mask and Supply Donations During COVID-19 Outbreak
Denver Health is also extremely grateful to our donors who are helping out with donations of Personal Protective Equipment (PPE) and other vital supplies. To help replenish our supply of PPE, the Dumb Friends League has dropped off a large donation and the owner of Lane Supply also stepped in with his own generous contribution of PPE and cleaning supplies.
If you wish to donate personal protective equipment (PPE) including medical-grade masks, gowns and gloves, please send an email to Linda.Ford@dhha.org. Please note that Denver Health is not accepting any homemade masks, as those can be inadequate for protection.
Vendors who are interested in selling or leasing supplies may send an email to COVID_vendors@dhha.org.
Stay up to date on how COVID-19 is affecting Denver Health patients, staff and visitors at DenverHealth.org/coronavirus.