Telehealth Expanding at Denver Health During COVID-19 Outbreak
March 23, 2020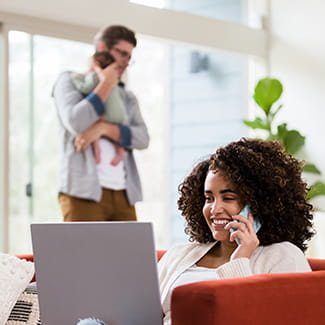 Denver Health is committed to helping our patients get the medical care they need while helping to stop the spread of the novel coronavirus (COVID-19). This pandemic has forced us to rethink the way we see and care for our patients, particularly in the outpatient setting. As a result, Denver Health providers will still be seeing patients, but we will now be conducting most of our outpatient visits over the phone until further notice.
"We want to avoid the need for people to come on a campus where they may be exposed to other people who are sick," said Denver Health's Chief Medical Officer Connie Price, MD. "We also want to avoid using excess Personal Protective Equipment for those visits and to promote the social distancing message of six feet or more we are hearing from our public health authorities."
Phone Appointments
The first phase of telemedicine at Denver Health will be a change over from in-person to mostly phone appointments for patients.
Patients will be notified if they already have an appointment and it is being changed to over the phone
Patients will not need to have any special technology for a phone appointment; the patient can call in for their appointment on either a smartphone or a landline phone
Denver Health continues to accept new patients; those patients will be set-up with a phone appointment whenever possible
Family Health Center and Clinic Appointments
All nine of Denver Health's Family Health Centers will remain open and operating during normal clinic hours (Winter Park Medical Center has changed its hours to 10 a.m. - 4 p.m., seven days a week) even as most appointments are conducted over the phone. If you currently have an appointment and are not feeling ill, keep your appointment. You will be contacted if your appointment changes to a telephone appointment and given instructions on how to connect with your provider. Patients are pre-screened for phone visits and contacted prior to scheduling to see if telehealth (virtual health care service) is an acceptable appointment for them.
To schedule an appointment, please go through the normal scheduling process by calling the appointment center at 303-436-4949 or your clinic's specific appointment line. New patients are still being accepted and should call the appointment center, tell them they are a new patient and then they will be set up with their first appointment over the phone whenever possible.
If you would like to reschedule your appointment please call the appointment center for assistance. Most appointments are able to be seen though some non-essential services are being deferred, but these are being assessed on a case-by-case basis.
All patients can check-in electronically up to 30 days prior to their appointment start times.
Screening at Family Health Centers and Clinics
Denver Health will be screening all patients that come to our Family Health Centers and clinics to check for symptoms of COVID-19.
Our clinics and Family Health Centers are currently not testing for COVID-19. At this time, testing is reserved for medical providers and those who are hospitalized with severe symptoms.
MyChart and Telehealth
MyChart allows you to manage your health care from your phone or your computer. You can schedule appointments, communicate with your doctor, re-order prescriptions, check your after-visit summary and see test results. You can download the MyChart app for your Apple or Android device here.
Please note you do not need to register with the ExtendedCare app once downloaded.
You also do not need MyChart to be a patient at Denver Health or for a face-to-face or phone visit with a Denver Health doctor.
Telehealth During and After COVID-19
"As the COVID-19 outbreak continues, we are planning to provide the availability of video visits later using MyChart so that we can expand these services to some of our specialty areas where that might be needed," said Dr. Price. She said that the expansion of telehealth during this pandemic will help Denver Health for years to come, once the pandemic has passed.
"We will be able to expand our outreach to our communities who may not be able to always physically come to our campus, allow better management of people who are unable to leave their homes and bring health care to their homes. We are very excited about that."
See the most updated information on telehealth visits at Denver Health and for more information on your continued health needs during the COVID-19 outbreak visit: DenverHealth.org/Coronavirus.