Major Upgrade Coming Soon to Women's Mobile Clinic
March 05, 2020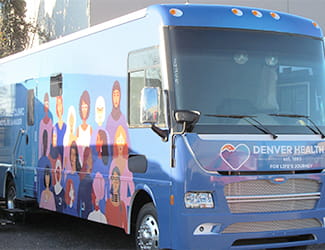 Sunday, March 8 is International Women's Day, a day to honor and celebrate the social, economic, cultural and political achievements of the mothers, grandmothers, sisters, wives, nieces and daughters in our lives. At Denver Health, we are proud to offer comprehensive and specialized care for women of all ages, including through our Women's Mobile Clinic, which travels the city throughout the year providing important screenings and health education to women.

Women's Mobile Clinic Nurse Practitioner and Program Manager Ashley Shurley told us about a major upgrade coming to the Clinic this year and answered some frequently asked questions:
What is the Women's Mobile Clinic?
The Women's Mobile Clinic (WMC) is a custom vehicle that travels across Denver County, bringing health services to people where they live, work, play and worship.
Why was the Women's Mobile Clinic created?
The Denver Health Women's Mobile Clinic was created in 2002 to reduce some of the barriers people face when trying to access preventative health services like cancer screenings.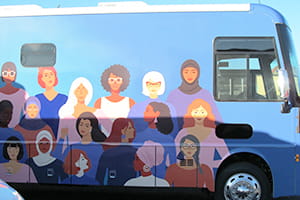 Mobile clinics can overcome time and structural barriers by decreasing the time one needs to take off of work or away from caregiver responsibilities, decreasing travel time, distance and cost.

Research has shown that compared to the general population, minorities often have poorer health and face a higher number of barriers in accessing health services, indicating a need for healthcare agencies to reach out to these communities.
Denver Health was forward-thinking and was an early adopter of the mobile clinic model for health care delivery. We screen more than 3,000 patients a year for cancer.
What are the screenings/services offered at the Women's Mobile Clinic?
We offer the following services at the WMC:
Breast cancer screening (mammography)
Cervical cancer screening (Pap/HPV testing)
Cancer prevention consultations including tools to screen for family history of cancer with referrals to genetic counselors
Health coaching for heart health and cancer prevention (WISEWOMAN grant program)
Heart disease risk reduction counseling (WISEWOMAN grant program)
What is the most exciting thing happening this year at the Women's Mobile Clinic?
We are getting a brand-new mobile clinic and new mammography equipment to replace our existing mobile clinic soon. Our intention is to create a safe, private and welcoming space for women of all backgrounds to get cancer screenings and learn about ways to keep themselves well.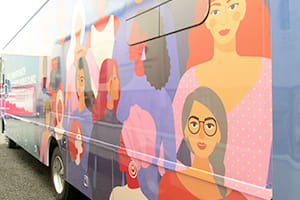 The exterior is bright and colorful and represents the diversity in the Denver metro area. The new WMC will have stairs that are not as steep as our current clinic and a unique style of generator that produces less vibration and less noise. The mammography equipment can be upgraded to provide tomosynthesis (a 3D mammogram), an upgrade we anticipate making the within the next one-to-two years. We are excited to offer the same excellent services in an updated setting.
Once the new clinic is completed, it will be driven from the factory to Denver and put into service. Watch this space for updates!
Who do you serve?
Individuals needing breast and cervical cancer screening, ages 21 and up.
As we celebrate International Women's Day – what is the most common or pressing health issue facing women today?
I think one of the most common and pressing health issues facing women today is how historical and societal pressures have caused us to de-prioritize our own health and well-being. We are sleep deprived and dream deprived.

Historically, across many cultures, women are often in a caregiver role for loved ones. It's a beautiful honor to be a caregiver. However, in the meanwhile, we (including myself) can forget to take care of ourselves, and we can end up tending toward putting others' health and well-being before our own. It's not easy going against the societal pressures and structures and instead choose to make your care and your well-being a priority. Sometimes it may even feel like we don't have a choice.

Prioritizing our health and well-being can be a variety of things. It can be taking the time to attend our screening mammogram appointment or take our blood pressure or blocking out a couple of minutes each day to have some quiet time to ourselves. It can be saying no to the many requests and distractions that come our way to give ourselves some space and some rest. Our societal structures do not do enough to support us in prioritizing our health and well-being.
Our hope is for the Women's Mobile Clinic to help make it more accessible for a woman to put her health first.
See the upcoming schedule for our Women's Mobile Clinic and make your appointment today!