COVID-19 Response Brings Out Best in Hospital Staff
April 02, 2020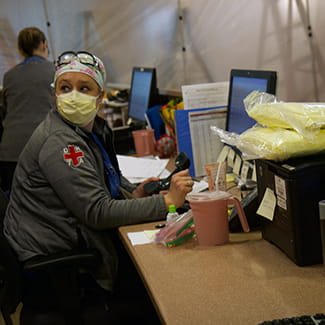 "Denver Health is always at its best in a time of crisis." Those words from Denver Health Chief Medical Officer Connie Price, MD when asked about the rapidly changing novel coronavirus (COVID-19) pandemic response at Denver Health have never rang truer.
This is a crisis the likes of which health care workers around the world have never seen and will likely not see again in their lifetimes. That is why Denver Health's current and even retired staff members are coming in every day, working around the clock and pitching in where needed – even changing job responsibilities and roles to tackle and help beat this pandemic.
Hospital Staff Response to COVID-19
Denver Health has temporarily suspended all elective surgeries until the COVID-19 threat is over.
"We've had a lot of our usual services decreased or eliminated, such as elective surgeries, so that we can better care for those COVID-19 patients," said Dr. Price. "All of our health care workers have been rallying to see how they can be most useful in this response."
That includes surgeons who are learning how to support our critical care teams in caring for patients. Several nurses have been moved off of their usual floors and reassigned to help us answer phone calls for our NurseLine from patients and people in the community who have questions about COVID-19. We've seen a big spike in calls to the free, 24/7 hotline lately and are adjusting staffing levels to make sure we have qualified medical providers on stand-by to take calls and answer questions right away. If you are concerned about COVID-19, you can reach NurseLine by calling 303-739-1211.
Retired Hospital Staff and COVID-19
"We're also getting support from some of our former employees who have retired or left health care, who want to know what they can do to help with this effort," Dr. Price added.
"This is absolutely an amazing time to be in health care."
Stay up to date on Denver Health's response to the COVID-19 pandemic at DenverHealth.org/coronavirus.