Safety Measures During COVID-19 at Denver Health Primary Care Clinics
July 27, 2020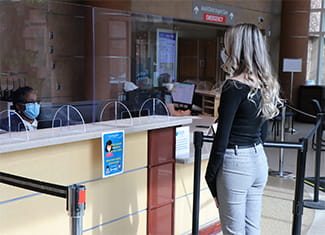 Update October 16, 2020: Face coverings are now required for everyone both inside Denver Health facilities as well as outdoors, including on all Denver Health campuses/locations per Public Health order.
For the past 160 years, patient safety has been Denver Health's number one priority and that has not changed because we are in a pandemic. We want you to know that you are safe coming to Denver Health for a doctor's appointment. We encourage all of our patients to keep up with their health care needs and appointment schedules. The novel coronavirus (COVID-19) has changed many aspects of our lives and as a result, Denver Health is taking extra steps to ensure your experience at one of our primary care clinics is still the safest it can be.
Primary Care Clinic Safety Steps During COVID-19
Your experience at any one of Denver Health's nine Family Health Centers is going to look slightly different during the pandemic in an effort to keep you safe and help stop the spread of COVID-19.

We are taking many strong and decisive steps to make all of our clinics a safe place for patients to visit during COVID-19, including:
Screening patients for COVID-19 before they step into the clinics, which includes:

Asking a series of simple questions
Taking the patient's temperature

Making sure everyone has access to face coverings or masks (as of October 16, 2020, face coverings are required inside and outside in the City of Denver per Public Health order – this includes outside all Denver Health campuses/locations)
Practicing social distancing
Putting up protective screens between patients and clerks and, if needed, between patients and providers in the clinic rooms
See the full list of protective measures being taken across Denver Health
Don't Delay Your Doctor's Visit During COVID-19
Denver Health Peña Southwest Family Health Center pediatrician Nicholas Gilman, MD encourages everyone to pay close attention to their health care needs during the COVID-19 pandemic.

"Everyone should go to their home primary care clinic and see their doctor for regularly scheduled check-ups," Dr. Gilman noted. "The clinics are safe. Call your clinic today and find out what your clinic is doing to make this whole process safer."

To make an appointment with a doctor at one of Denver Health's nine Family Health Centers located around the city, call our appointment center at 303-436-4949.