Health Care is Not One Size Fits All
September 17, 2020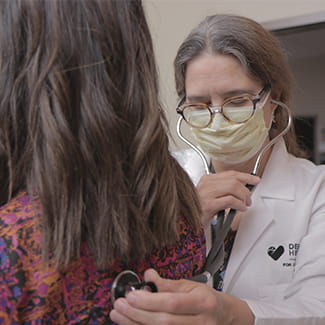 Denver Health is proud to support our patients in a new program that aims to improve health for everyone by recognizing that health care is not one-size-fits-all. We are encouraging patients to enroll in the National Institute of Health's All of Us Research Program.

The mission of All of Us is to speed up health research and understand why people get sick or healthy. The more we know about what makes people unique, the more customized health care can become. Researchers want to study our country's diversity and different ways of life as it relates to health and health care.
Benefits of All of Us
As researchers gather more information, they can discover:
New treatments and cures for diseases like COVID-19 more quickly
Better tests to see if people are sick or are at risk of getting sick
Better mobile apps to encourage healthy habits
Better medicine or information about how much of a medicine is right for each person
Enrollment in All of Us
"If you decide to join the All of Us Research Program, they will ask you to share different kinds of information," said Denver Health research projects coordinator Jonathan Block.

Denver Health's Community Health Care Advisors will facilitate enrollment of patients in All of Us through the free MyChart app.

"They will ask you basic information like your name and where you live," Block continued. "They will ask you questions about your health, family, home and work. They may ask you to go to a Denver Health clinic or drug store for a free appointment. At this appointment, they will collect basic physical measurements, including your height, weight, and hip and waist measurements, as well as your blood pressure and heart rate."

All personal and health information will be kept private and participants are not required to share their social security numbers.

All of Us has a goal of enrolling one million people throughout the United States.