Creativity During COVID to Dress Up NICU Babies for Halloween
October 28, 2020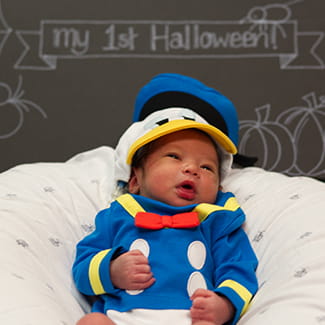 For the past several years, it's been a tradition at Denver Health for our dedicated nursing team in the
Neonatal Intensive Care Unit
(NICU) to come together with volunteers, families and other staff just before Halloween to make homemade costumes for the babies in their care. But this year, due to COVID-19, the costume-making party had to be canceled.
Undeterred and with the help of a generous donation from Denver Health's
Child Life
program, the NICU nurses got creative and purchased costumes made for teddy bears, which were just small enough for the preemies. The costumes came from Build-A-Bear, a company that lets children make teddy bears and then pick from an array of costumes to dress them in. The babies big enough to fit into infant costumes are dressed up as Disney characters.
The Patient and Family Advisory Council, co-chaired by Denver Health NICU nurses Brittany Boyajian, RN and Jacqueline Dicharry, RN organized the Halloween event, dressing up the babies and taking the photos. Kresta Lancaster, RN created backdrops and decorated the frames for the families.
"This is always an uplifting event for our families," said Dicharry. "We know how hard it is to be in the NICU during the holidays and we want to do something special for them.
Parents appreciate the gesture as well. One mother said, "the photos gave me some sense of normalcy and a glimpse of what it will be like when he is home. It was a good feeling."
See all the photos of the NICU babies' "first Halloween" below!