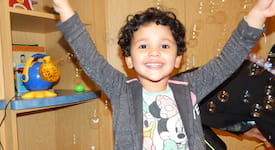 Play is at the heart of the Child Life Program. Child Life specialists recognize that through play, children are able to cope with stress, changes and challenges, and provide normalcy when nothing in their life is normal. It is the mode used for providing education and coping tools for each child.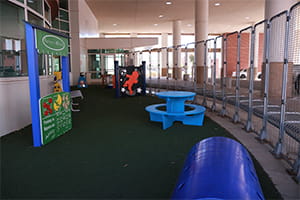 Child Life Specialists help patients and families adjust and cope with being in the hospital or clinic setting. Armed with a strong background in child development, these specialists use play and other education techniques to assist children and their families during medical visits and procedures by helping ease children's fear and encourage cooperation.

Having an adult family member in the hospital can also be stressful for children. Children benefit from preparation and developmentally appropriate support to increase positive coping skills. Child Life specialists are available for children when they are visiting adult units if needed.

Each Child Life specialist has a minimum of a bachelor's degree in the areas of child life, child and adolescent development, or special education. They are required to have an internship supervised by a certified Child Life specialist and become certified through the national Child Life Council.
Our Services
Support during difficult medical procedures

Child Life specialists help reduce pain and anxiety during medical procedures through distraction and relaxation techniques. Additionally, they assist parents in helping their child during medical procedures. Their goal is to make each procedure as positive as possible for patients and families.
Medical preparation and pre-surgery teaching

Surgery or medical tests can be a difficult time for a child. Our Child Life specialists teach kids about what to expect, what the doctors will ask of them and prepare them for a hospital stay. This helps ease fears about the hospital and the surgery routine.
Pre-surgery tours

Denver Health provides pre-surgery tours for children and families. Come see the rooms that you will visit and practice some of the things that the doctors or nurses may ask you to do. Children will get to try on surgical masks, practice breathing techniques and become familiar with the hospital environment. It is an excellent opportunity to ease their anxiety and make their experience much more positive.
Therapeutic play

Child Life specialists engage children in therapeutic play activities that help meet their treatment goals and decrease pain. They work with children at the bedside or in the Child Life Zone.

Playground at the Child Life Zone.
Sibling support

A trip to the hospital can be difficult for the child and also affect siblings. They need to understand what is happening and need to work through their feelings. Our specialists are here to help children understand the situation and provide age appropriate support.
Family support

Medical treatments and hospital visits affect the entire family. Families benefit from emotional support during their child's hospital stay. Child Life specialists help parents communicate with their child's healthcare team to promote a family-centered experience.
Support for children whose family members are in the ICU

Child Life specialists provide education and support to children and youth whose family members are in the adult ICU. They teach them about the diagnosis and/or injury, help facilitate visits to the ICU and provide ongoing emotional support.
Denver Health's Child Life Zone was made possible by the Garth Brooks Teammates For Kids Foundation. This nonprofit foundation was co-founded by Garth Brooks to work in partnership with professional athletes, celebrities, organizations and fans to generate funds for children's charities. Denver Health will always be grateful for this tremendous gift.