National Respiratory Care Week
October 27, 2020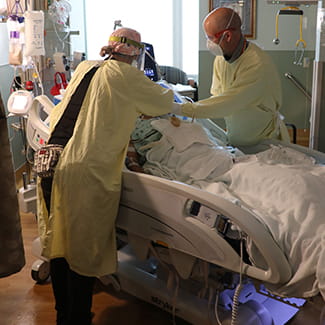 Celebrating Health Care Heroes on the Frontlines
Denver Health's respiratory therapists are among the frontline health care heroes saving lives of our COVID-19 patients every day during the pandemic. This week is National Respiratory Care Week, and we are saying thanks to our incredible Respiratory Therapy team.

The department has grown to more than 60 staff members during the COVID-19 outbreak. Our respiratory therapists (RTs) are skilled with specialized breathing equipment and techniques to treat some of our most fragile patients, which include premature and sick newborns, severely injured trauma patients and those at end-of-life stages.

Taylor Nix and Christopher Whelchel, among others, are currently treating some of our COVID patients on ventilators in the Medical Intensive Care Unit.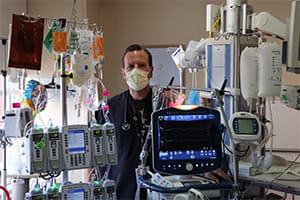 Prior to the pandemic, the RT staff typically treated between 15 and 20 patients on ventilators at any given time. Since the outbreak, their average has been well above 20 and up to 46 at its peak. In addition to providing breathing treatments, RTs analyze blood, and monitor and adjust lifesaving equipment. They respond to life-threatening emergencies and help patients with deteriorating conditions.

The outpatient team assists in diagnosing conditions such as asthma and lung disease in our outpatient pulmonary function lab. RTs also run the sleep study program, test patients for sleep apnea and treat patients recovering from COVID through pulmonary rehabilitation.

"They're dedicated, compassionate, and they care for our patients regardless of the risk," said Andi Ellis, Denver Health's director of Pulmonary Services. "I'm extremely proud of the knowledgeable and excellent care they provide."