Racism Is A Public Health Crisis
October 02, 2020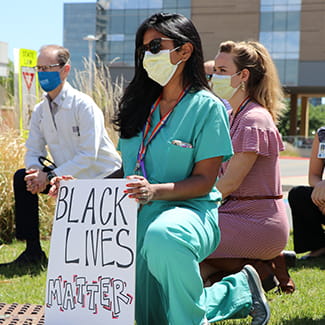 This week, Denver Health joined 38 health systems across the country in declaring racism as a public health crisis. The move, led by the Healthcare Anchor Network comes after several months of social unrest, amidst a global pandemic where we are seeing communities of color experience disproportionate impacts of violence and mortality because of COVID-19.

Declaring racism as a public health crisis is personal for Denver Health. As we have done since our founding in 1860, we are doubling down and strengthening our commitment to providing high-quality clinical care for our most vulnerable community members.

"At Denver Health, we continue to fulfill our mission to provide high-quality clinical care for all, but we know the wellbeing of the people in our community is also dependent on social determinants of health such as access to housing, education, employment and the overall economic conditions where we live and work," said Robin D. Wittenstein, CEO of Denver Health. "While we have been working to improve these conditions for our entire 160 year history, we are taking our efforts to the next level along with other health care institutions around the country."
How Denver Health is Treating Racism as a Public Health Crisis
As we work with our partners across the country to better understand the challenges within our systems that create barriers, we are committing to doing the work here on the ground locally.

Denver Health's actions include:
Hiring and training practices designed to place people in stable employment opportunities, as exampled through a pharmacy technician program and a partnership with Emily Griffith Technical College to manage a new café on campus
Buying from local businesses, especially minority- and women-owned businesses, to support the backbone of the community
Expanding services to help families enroll in the Supplemental Nutrition Assistance Program (SNAP), Women, Infants and Children (WIC) and other programs they may qualify for, with the goal of helping to stabilize families and make sure children can flourish