Denver Health To Receive First COVID-19 Vaccines This Week
December 14, 2020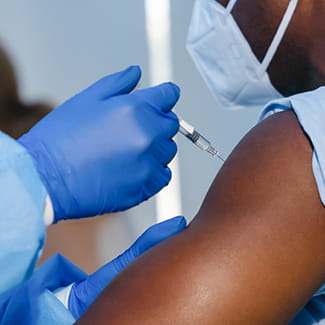 Update: Based on recommendations from the Centers for Disease Control and the Food and Drug Administration, Denver Health will resume administration of the Johnson & Johnson (Janssen) COVID-19 Vaccine. Learn more here.
Vaccinations are available to everyone age 16 and over. Denver Health will continue to vaccinate patients according to the latest state guidelines. Learn how to make an appointment for a vaccine at Denver Health.
When Will Patients Receive the Vaccine?
With the arrival of the first COVID-19 vaccines in Colorado this week, we know many in the community have questions about when you can get the COVID-19 vaccine. Denver Health providers and leaders are joining with the nation and state's leading health organizations to encourage you to get a COVID-19 vaccine when it is available, to protect yourself and the community against the further spread of the virus. Watch Denver Health Pulmonary and Critical Care specialist and advisor to Governor Jared Polis on the COVID-19 vaccine Anuj Mehta, MD explain to staff why the COVID-19 vaccine is safe, effective and a vitally important measure in helping to end the COVID-19 pandemic.
Vaccine Distribution at Denver Health
Denver Health is expecting a limited number of vaccines to be distributed to our hospital system by the end of December for Phase I of a months-long, multi-phased distribution plan.

In deciding who will receive the first round of available vaccines, our hospital will follow the framework developed by the State of Colorado in collaboration with the Centers for Disease Control and Prevention. The first phase of vaccinations will be given to frontline workers who work directly with COVID-19 patients and frontline support staff in both inpatient and out-patient settings.

Denver Health believes strongly in protecting its patients with the vaccine. At this point, we anticipate patient vaccines to be available in the first few months of 2021. However, this is dependent on distribution by the State, so when available, we will reach out to notify our patients through communications such as MyChart and patient emails and public platforms, including on our website and social media channels.

For the latest information on COVID-19 and how the pandemic is affecting Denver Health patients and staff, visit DenverHealth.org/coronavirus.