Denver Health Resumes Johnson and Johnson COVID Vaccine
April 28, 2021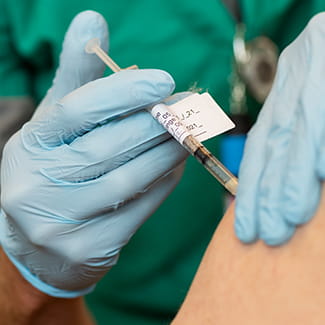 Based on guidance from the Centers for Disease Control and Prevention (CDC), Food and Drug Administration and Colorado Department of Public Health and Environment, Denver Health is resuming administration of the Johnson & Johnson (Janssen) COVID-19 vaccine. A brief pause of the vaccine was recommended earlier this month after a few reported cases of a rare but serious type of blood clot that occurs in the brain and/or in the abdomen.

Denver Health will offer the Johnson & Johnson (Janssen) vaccine at the following locations:
The Johnson & Johnson vaccine will also be available to non-ICU patients in the main hospital.

While the vaccine will be available at these locations, Denver Health is continuously working to provide choice to all individuals who wish to be vaccinated.

To date, more than eight million doses of the Johnson & Johnson vaccine have been administered in the United States. Among individuals who received the vaccine, there have been 17 reported cases of this type of blood clot. During the pause, these events were examined by the CDC's Advisory Committee on Immunization Practices and while serious, the group made the decision to resume the vaccine for people ages 18 and older.

Individuals who received the Johnson & Johnson vaccine more than a few weeks ago are at very low risk of serious side effects. Anyone who received the Johnson & Johnson vaccine within the last three weeks who develops severe headache, difficulty breathing, leg pain or stomach pain should be evaluated. These symptoms are different from the flu-like symptoms people may experience after receiving a COVID-19 vaccine.

We will continue to look toward federal health officials and make additional updates and recommendations on vaccine distribution as information becomes available to us. For the latest updates, please visit DenverHealth.org/Coronavirus.

All vaccines are safe and effective in preventing serious illness or death from COVID-19.

Schedule your COVID-19 vaccine appointment directly online, by calling 303-436-7000 or through your existing MyChart account. You can now select from available dates, times and Denver Health clinic locations. You will be able to select a location by vaccine manufacturer or simply choose the first available appointment that fits your schedule. You no longer need to sign up for a MyChart account to get a vaccine.