Governor Polis Receives Moderna COVID-19 Booster Vaccine at Denver Health
October 22, 2021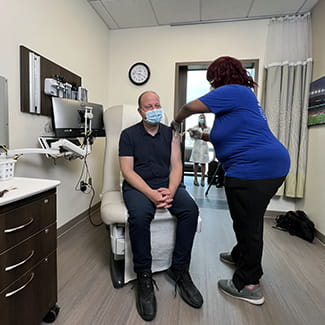 Update November 30, 2021: Booster shots are now available for all individuals 18+ who received a Pfizer-BioNTech or Moderna vaccine at least six months after their second dose.

Any individual who received a one-dose Johnson & Johnson vaccination, may also receive a booster shot at least two months after their first shot.

Patients may mix and match their booster dose if they wish. However, the FDA and CDC advises that immunocompromised individuals stick to their original series for a booster shot.
(Original article published October 22, 2021) –Colorado Governor Jared Polis came to Denver Health this afternoon to receive a third dose of the COVID-19 vaccine, just hours after the Centers for Disease Control and Prevention (CDC) and the Food & Drug Administration (FDA) authorized Moderna and Johnson & Johnson (J & J) booster shots, in addition to Pfizer booster shots. The governor's vaccination took place in the Primary Care Center, on the seventh floor of the Outpatient Medical Center.

"It's about time. The data is completely clear and consistent: a third vaccine dose is necessary for stronger and lasting protection against COVID-19. It's critical that Coloradans have more protection against this deadly virus," Gov. Polis said. The Governor qualifies under CDC guidelines to get the COVID-19 booster shot as one of those who are at higher risk for exposure to the novel coronavirus, along with health care workers, first responders and frontline workers.

Denver Health plans to offer Moderna and J & J booster shots starting Monday, October 25 to all staff and eligible patients.
Staff and patients must have completed either the primary Moderna vaccine series at least six months ago, or the J & J single dose at least two months ago.
The FDA and CDC recommended Moderna COVID-19 booster shots for U.S. adults ages 65 and older as well as individuals with
underlying conditions
placing them at higher risk for severe COVID-19. The CDC is also allowing individuals 18 or older at higher risk for exposure to COVID-19, including health care workers, frontline workers and first responders, to get a booster dose if they choose, as the governor did today.
The CDC is recommending that individuals – regardless of age or underlying condition – who received a one dose vaccination of Johnson & Johnson receive a second dose as early as two months from the date of their first shot.
You can schedule an appointment for your booster dose at Denver Health in the following ways:
While vaccination remains the most important measure we can take to prevent COVID-19 and its complications, adhering to additional prevention measures such as universal indoor masking is essential to protecting ourselves, our families and our communities.