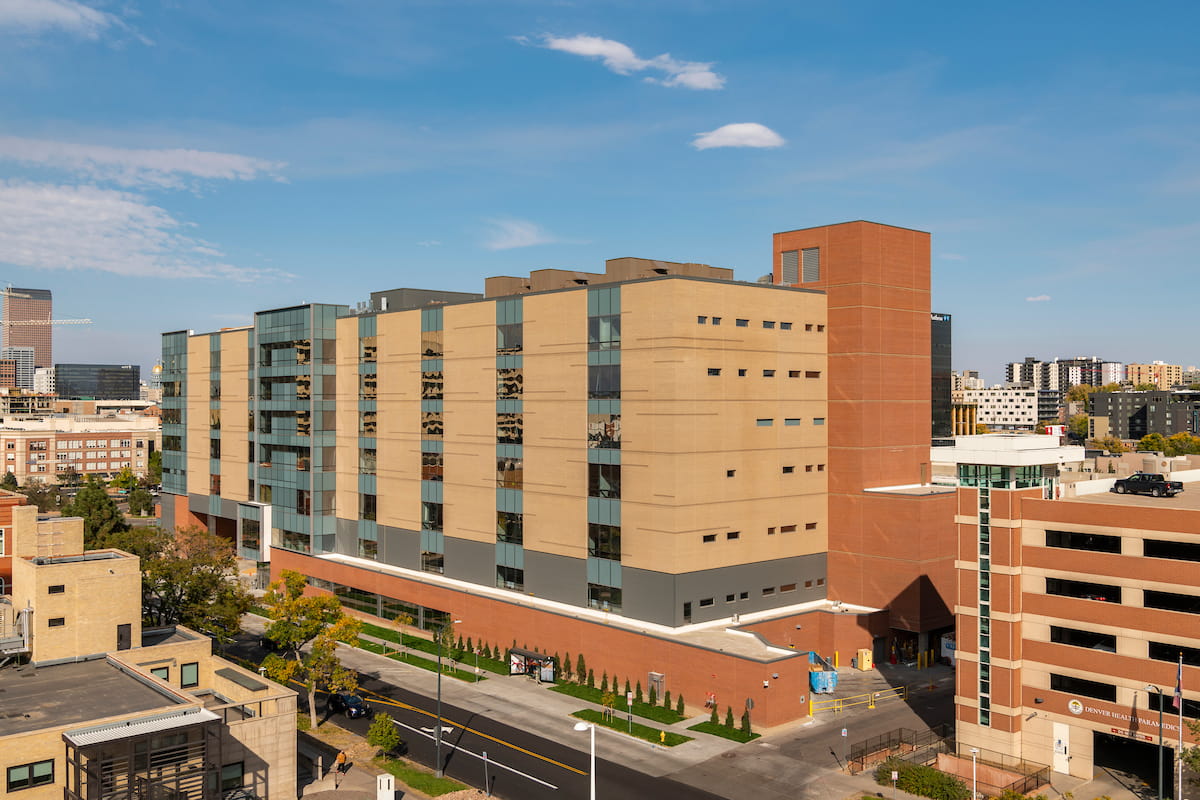 Outpatient Medical Center
660 Bannock St., Pavilion L
Denver, CO 80204
303-436-4949
303-436-6000

Maps & Directions
Office Hours
Pharmacy: Seven days a week, 7 a.m. - 8 p.m.
Laboratory: Seven days a week, 7 a.m. - 8 p.m.
Denver Health's Outpatient Medical Center: A Commitment to Our City's Health Needs
Denver Health's new Outpatient Medical Center aims to increase the hospital's patient capacity to provide advanced outpatient care, meeting current and future needs of our growing, vibrant city. As Denver Health provides medical care to nearly one-third of Denver's population, offering primary care, and preventative and acute care services, our expanded health care facility is just another extension of our commitment to making our community a healthy place to live.
What the Outpatient Medical Center Will Offer
Denver Health's Outpatient Medical Center centralizes numerous services under one 293,000 square foot roof, in an easy-to-access downtown location. It includes a day surgery center, a new location for our Adult Urgent Care Center, expanded pharmacy, lab services and radiology. See all of our service offerings below.

The state-of-the-art building greatly enhances Denver Health's ability to provide treatment for heart disease, cancer and diabetes as well as providing orthopedics, behavioral health, dental and oral health, and offer expanded services for eye exams and physical therapy.

Consolidating these clinics will free up much needed space around the Denver Health campus, allowing the hospital to boost primary care services, increase the number of inpatient psychiatric beds and provide the capability to double the number of operating rooms.
Impacting Community Care
Denver Health plays a critical role in the health care system for the entire Denver metro area. Its commitment to the state and the city is to provide health care for all residents, regardless of insurance coverage or ability to pay.
Benefits offered by the Outpatient Medical Center include:
improved access to care for patients,

greater convenience to parking, localized health services and pharmacy needs,

enhanced patient experience with state-of-art facility and equipment,

high-quality care,

and affordable health services
Departments That Are Scheduled To Move to the Outpatient Medical Center in 2021
Clinic and Department Opening Updates
New Pharmacy Location
Opening on February 1, 2021, the Denver Health Outpatient Medical Center Pharmacy is a new pharmacy location, located on the first floor (known as the "Union Station" floor) of the Outpatient Medical Center (Pavilion L). State-of-the-art technology and a larger space will allow the pharmacy team to focus on providing personalized health care. The Pharmacy team works directly with our Denver Health Providers to dispense medications for complex medical conditions that require special handling. Staff will utilize a new "counting robot" to fill prescriptions. The Outpatient Medical Center Pharmacy will be open seven days a week, from 7 a.m. - 8 p.m., providing another convenient option for patients to pick up their medications. The new pharmacy is better suited to support our community and continue the Denver Health mission of providing high-quality cost-effective care. This new location will supplement the Wellington E. Webb Center for Primary Care Pharmacy in Pavilion G (link to page), which remains open, Monday - Friday, 8:30 a.m. - 6 p.m.
Radiology Moves, Expands Services
The first patients on opening day at the Outpatient Medical Center were in Denver Health's newest Radiology Department. They were greeted with a new, expanded space and a clinic open longer hours to serve them. Radiology is on the first floor (known as the "Union Station" floor) of Pavilion L, just past the elevators. Patients will find a large waiting area with five registration desks and staff who can check them in quickly for their appointments. For the first time at Denver Health, this new location offers positron emission tomography (PET) scans. The imaging test helps reveal how your tissues and organs are functioning. It may help identify a variety of conditions, including many cancers, heart disease and brain disorders. Bone densitometry (DXA), diagnostic radiology (X-rays) and ultrasound tests have moved from Pav. G to the new Pav. L location. The new location also has Computed Tomography, Mammography (starting March 15), Magnetic Resonance Imaging (MRI), Orthopedic Clinic Imaging (scheduled to start in April) and X-Ray Fluoroscopy. All of Denver Health's other Radiology locations, including the Pavilion A location in the main hospital, will remain open. See the hours of all of our clinics and services.
Expansive Lab Offers Wide Variety of On-Site Testing
The laboratory opened on the first floor of the Outpatient Medical Center (known as the "Union Station" floor) on February 1, 2021, with more than double the space of lab in the main hospital to serve the needs of Denver Health's growing patient population for years to come. Patients can come to get their blood drawn in one of our nine draw rooms and providers for the more than 30 medical services in the Outpatient Medical Center will have access to a wide variety of on-site tests. The first patient to have his blood drawn at the Outpatient Medical Center was none other than Denver Health's Chief Administrative Officer and Denver Health patient, Wade Ebersole. The new Outpatient Medical Center Lab is open seven days a week, from 7 a.m. - 7 p.m. (with the exception of opening week, February 1-5, from 7 a.m. - 5 p.m.). All other laboratory locations will remain open, see the full listing of hours, locations and services.
A New Location for the Adult Urgent Care Center
Denver Health's Adult Urgent Care Center, known for its friendly staff and amazing patient experience is moving to the new Outpatient Medical Center (Pavilion L). At 8 p.m. on Monday, February 8th, the Adult Urgent Care Center will close its longtime location in the main hospital, re-opening at 11 a.m. on Tuesday, February 9th in a brand-new space on the Medical Center's first floor, north wing (also known as the "Baker/Lincoln Neighborhoods wing"). Patients at the new location will find the same top quality care and services they have come to expect from all of Denver Health's urgent care locations with 17 new patient rooms and new state-of-the-art equipment. The Adult Urgent Care Center's move means it will now have its own dedicated registration desk, X-Ray machine and the ability to order same or next day Ultrasounds, CT and MRI scans from our Outpatient Medical Center Radiology department for patients. The Adult Urgent Care Center expects to serve about 70 patients a day and will be open seven days a week, from 7 a.m. - 7 p.m. No appointment is needed, walk-ins are welcome.
New, Expanded Gastroenterology Lab Will Help More Patients
On Tuesday, February 16, Denver Health's outpatient Gastroenterology (G.I.) Lab opens its doors to patients in its new location, on the 3rd floor of the Outpatient Medical Center (known as the Cheesman Park Neighborhood/Botanical Gardens floor). This is an expanded space, with five brand new procedure rooms – which is one more than the department had before. This larger space allows Denver Health's expert G.I. Lab team to screen more patients for cancers of the colon and esophagus, as well as diagnose, treat and manage patients with digestive or liver disease. State-of-the art new equipment in Denver Health's G.I. Lab ensures patient safety and efficiency during procedures. Patients can get a referral from their primary care doctor or speak directly to the patient navigator about making a colon cancer screening appointment by calling or texting 720-390-0062.
Free Parking at the Outpatient Medical Center
Free patient and visitor parking for the new Outpatient Medical Center will be conveniently located directly behind the building, at 645 Acoma Street. There are more than 650 new parking spaces available at no charge to patients. The new parking allows patients to get to and from their appointments safely, without having to cross any major streets.
OMC Café: Powered by Emily Griffith
The new 4,800-square-foot OMC Café: Powered by Emily Griffith serves breakfast and lunch, offers Starbucks coffee and espresso beverages, a variety of fresh and convenient grab-and-go items, as well as paninis, soups and bottled beverages. The café is driven by a local, community-based partnership, with current students and graduates of the Emily Griffith Technical College's culinary programs leading its ownership and operations. The café is located on the second floor – just follow the signs after getting off the elevator – and is open from 6:30 a.m. - 2 p.m.
Denver Health Campus Map: Current Clinic Locations and Relocation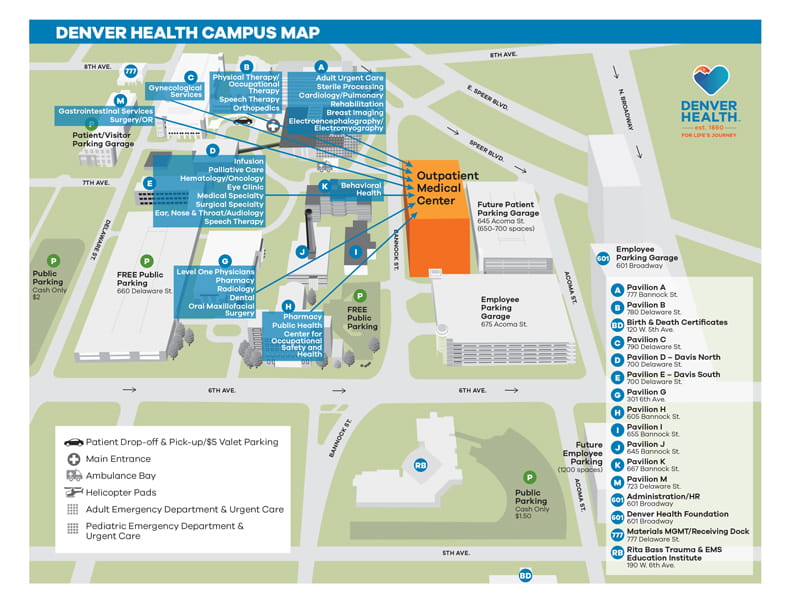 See a larger, PDF version of the map of clinics moving into the new Outpatient Medical Center.