19th School-based Health Center Opens to Students in Southeast Denver
February 22, 2022
Denver Health Pediatrics at Denver Public Schools is pleased to welcome students seeking health care at its 19th school-based health center. George Washington High School's new school-based health center is now open, providing comprehensive physical and behavioral health care services and education to students at no cost to them or their families. It has been seeing students for nearly two months now.

The new center is known to students by a nickname they adopted, "The Pulse," and they will be greeted by a student-designed sign as they enter. The center will offer services to more than 1,200 students at George Washington High and surrounding Denver Public Schools (DPS). Today, there was a grand opening ceremony with an official ribbon-cutting ceremony to introduce the new center to a small group of Denver Health, DPS and community leaders.

Services offered at the new school-based health center include:
A look inside the new school-based health center at George Washington High School.

Screenings for comprehensive wellness and mental health
Immunizations and COVID-19 vaccinations
Mental health and substance use counseling
Consultations on sick visits
Oral health screenings and triage for further dental care
Asthma checks
Consultations for medicine refills
Health education and family planning
Insurance enrollment and advisement services
Telehealth options
Denver Health has been providing health services to DPS students within the schools for more than 35 years. Denver Health's school-based health centers (SBHCs) form a large network of care.

George Washington High School is excited about the partnership with Denver Health, as the last comprehensive high school in DPS to open a school-based health center. The students, staff and community have stepped up to make this health center a reality by taking an active role in the planning process and raising funds to cover a $50,000 shortfall.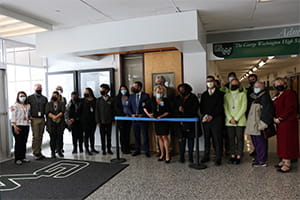 Denver Health Chief Ambulatory Officer Simon Hambidge, Chief Operating Officer Kris Gaw and School-based Health Center Medical Director Sonja O'Leary, MD, said a few words at today's ceremony, thanking community members, local construction crews from W.E. O'Neil Construction Company and DPS/Denver Health staff who all played a big role in making sure the new center became a reality. George Washington High School principal Dr. Kristin Waters also thanked the crowd and had the ribbon-cutting honors, followed by informal tours of the new center.
"These centers provide primary care services to students in an environment that is familiar, convenient and safe," said Steve Federico, MD, Director of General Pediatrics at Denver Health. "Our hope is that students will be able to access necessary medical care without missing class and will be encouraged to employ healthy choices every day."

Any student in Denver Public School's more than 230 schools and early childhood education centers can access medical, dental and behavioral health services at no cost at any Denver Health school-based location that offers those services, including this new location. In most cases, same-day or next-day appointments are available. Learn more.