News Anchors Thank Denver Health Team on Superhero Day
April 28, 2022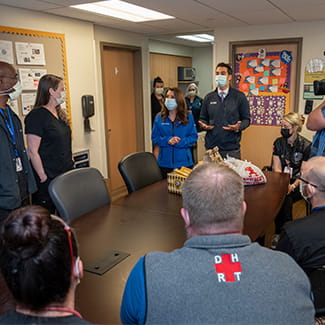 Today, April 28, 2022, is National Superhero Day, but not all superheroes wear capes. Some of the real superheroes in the eyes of our community work right here at Denver Health. To honor our health care workers, the morning news anchors from CBS4 paid a special visit to Denver Health to deliver breakfast burritos, coffee and present thank you notes from TV station staff to the entire health care team.

CBS4 This Morning anchors Michelle Griego and Dominic Garcia made the delivery to Denver Health's Respiratory Therapists, who have played a key role in taking care of patients throughout the COVID-19 pandemic.
Andi Ellis and Ryan Kelley lead Denver Health's respiratory therapy team and say small gestures like these mean a lot, considering all that everyone has been through. They say that early in the pandemic enthusiasm was high and there was a united effort amongst the team to take on this substantial challenge.

But they admit that as time wore on, fatigue inevitably set in.

Now that COVID numbers have subsided, they say that transitioning closer to their previous work environment has been helpful, but the toll of the pandemic continues to linger – for all health care workers.
Workers at the TV station are returning to work in person this week, after many were working remotely during the pandemic and the Denver Health visit was part of the station's Welcome Back commemorations. CBS4 General Manager Tim Wieland said, "It's a way to show gratitude to Denver Health as the city hospital and as our neighbors, and to thank the Denver Health team for all they have done throughout the pandemic." Denver Health was thrilled to welcome the news anchors to be a part of the day's festivities.

"We are very proud of the resiliency and care our team members continue to provide to our patients," Ellis said.
"I am grateful for and proud of all our employees for their hard work," said Denver Health CEO Robin D. Wittenstein, Ed.D., FACHE. "Our staff showed up day after day throughout the second year of the pandemic, despite physical and emotional fatigue. They remained committed to our mission, even while some suffered losses of their own friends or family members to COVID. Our doctors, advanced practice providers and nursing staff saved lives, administered critical treatments and provided compassionate care. Our frontline employees and support staff, including food service workers, janitorial team, IT technicians, front desk clerks, screeners, engineering personnel and countless other employees welcomed our patients, maintained our facilities and delivered world-class service."
National Superhero Day is always a special event at Denver Health. Every year doctors, nurses, medical assistants and other team members dress up in costumes to celebrate, and Denver Health volunteers put on costumes to deliver donated toys to our pediatric patients in the hospital.

See CBS4's coverage of today's delivery to some of Denver Health's incredible health care workers.

See some of the photos from the day below: