Construction Alert for Outpatient Medical Center
May 26, 2022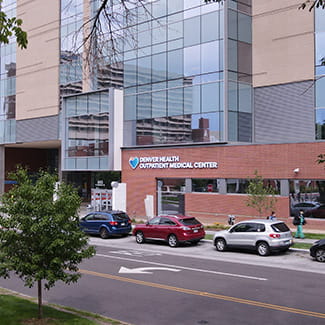 Article Updated Below: This work has been moved to begin on June 4th due to the Memorial Day holiday, with some quick prep work taking place on Friday, May 27th, which should not have a major impact on patients or employees.
Denver Health would like to make all patients, staff and community members aware of a traffic closure due to construction that will affect anyone heading to the Outpatient Medical Center (Pavilion L) on Saturday, June 4 and Saturday, June 11. This includes patients using the Outpatient Medical Center pharmacy and the Adult Urgent Care Center.

Crews will be making repairs to the concrete drive in front of the Outpatient Medical Center beginning at 6 a.m. on June 4 and June 11. During the repair work, half of the driveway entrance in front of the building will be blocked, meaning only one lane (either in or out) can come through at a time. There may also be partial lane closures along Bannock Street throughout the duration of the work. Road work flaggers will be on site to direct and control vehicle and foot traffic.

Although there will be delays due to the road work, cars and pedestrians will be able to enter and exit the entrance drive and Pavilion L. Denver Health's valet parking team will be working the during the Saturday closures, to ensure everyone is able to find parking. Valet is available for $5 per car. Free parking is still available to patients in the garage next to the Medical Center; to avoid the construction, please enter from the alley directly south of the building that runs between Bannock and Acoma Streets.

Denver Health thanks you for your patience and for following any directions from the road work flaggers on site for everyone's safety.