Denver Health leaders featured at Colorado State of Reform conference
November 03, 2022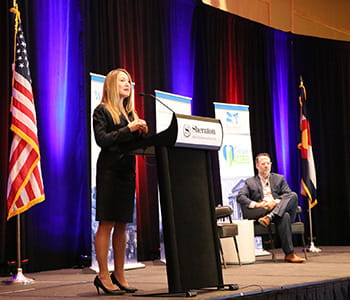 Denver Health's chief medical officer, Dr. Connie Savor Price, delivered a keynote speech at the Colorado State of Reform Health Policy Conference on Wednesday in downtown Denver, explaining how the hospital rapidly expanded telehealth services and collaborated with other medical centers after the onset of the COVID-19 pandemic.
"We had to steward our resources as if our critical supplies would be gone tomorrow, because in many cases that was a real risk," Price said, adding that there were more than 1.5 million confirmed cases of COVID-19 in Colorado during the pandemic and about 70,000 hospitalizations.
Price delivered a 30-minute speech and then answered follow-up questions from a moderator and audience members.
The annual State of Reform conference says it focuses on "bridging the gap between health care and the policy that governs it" by providing stakeholders with a nonpartisan, policy-agnostic space to discuss how to improve the health care system.
Also at the conference at the Sheraton Denver Downtown Hotel, Denver Health's chief impact officer, Lorena Zimmer, was part of a panel that discussed measuring the effectiveness of strategies to address social determinants of health.
Zimmer spoke about how Denver Health has partnered with numerous types of organizations, such as denverhealth.findhelp.com and Hunger Free Colorado, to help patients gain access to food, housing, transportation, social services and more.
"Denver Health has always been this integral institution in our community," Zimmer said. "We want to be a pillar for economic mobility and health equity, not only for our patients but for our staff and our community."
Zimmer pointed to a partnership with the Denver Housing Authority on the under-construction 655 Broadway building on Denver Health's main campus. It will have more than 100 units for low-income older adults and several units that will serve as transitional housing for patients who check out of the hospital but don't otherwise have a place to continue healing.
Denver Health partners not only with organizations to support the community, but even with other hospitals.
In her keynote address, Price talked about how she and chief medical officers at other health care systems had multiple meetings each week – sometimes every day – to share information and resources and develop best practices.
"People we would normally compete with – other hospitals – we had to work together. We had to figure out how to navigate this pandemic together for our state and through the continuum of care involving other stakeholders," Price said.
Denver Health also worked with long-term care facilities, community clinics, pharmacies, mental health institutions and others to disseminate the latest information on COVID-19.
Price talked about Denver Health's Virtual Hospital at Home program, which at its peak had about 40 patients a day – saving 40 hospital beds for those who needed them most.
"With collaboration and by having our patients be able to use digital technologies when they can, being able to remove points of friction and waste, worth together better, we can change our business model to achieve better outcomes, better experience and lower costs," Price said. "The value-based fundamentals really are something that helped us survive the pandemic and will continue to help us navigate the post-pandemic world."