Infant Mental Health - An Innovative Program for the Youngest Patients
December 15, 2022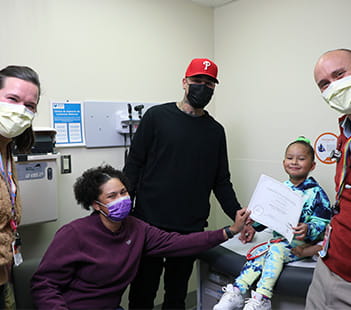 Three-year-old Jade Green is a bundle of energy, typical of most toddlers her age. But if you spend five minutes with her, you'll think you're talking with a girl twice her age. Jade's curiosity for learning, asking questions, articulate manners and vast vocabulary can all be traced back to the care she is receiving as part of the Infant Mental Health program at Denver Health.

"Infant mental health differs from traditional mental health in that we try to intervene early," said Sara Hills, PhD, team lead for the Infant Mental Health program. Dr. Hills directs a team of infant mental health specialists who work with children at all 10 Denver Health Community Health Centers.
Infant mental health specialists are psychologists, licensed professional counselors or licensed social workers who work together with a medical provider during a doctor's visit, with families with children ages five and under.
This innovative program provides a multi-generational approach to mental health care, focusing on both the child and the caregivers. The goal is to prevent the emotional, social and financial costs of adverse childhood experiences and toxic stress as the child grows up and matures into adulthood.
"We focus on prevention and health promotion for the very youngest in our care with the goal to make sure that families feel well supported," Dr. Hills said.
Jade's mom and dad have been bringing her to the Sam Sandos Westside Family Health Center since she was just two days old. "It really helps with her developmental milestones," said Brianna Green, Jade's mother. This is the couple's first child and having the extra support has helped them keep track of her growth and answer any of their questions.
Jade just graduated from the Healthy Steps program within Infant Mental Health, which works with the whole family to help promote nurturing parenting and healthy development for babies and toddlers. Jade has had the same primary care provider and infant mental health specialist the entire time she's been coming to Denver Health.

"We really think about our 'patient' as the dyad of child and the caregiver, and so we think about, what can we do to help promote the relationship there?" said Caitlin Hernandez, PhD, Jade's Infant Mental Health Specialist. "We offer games or activities when she comes in and use our partnerships with local resources around promoting brain development, such as reading books or coloring pages. As part of the Healthy Steps program, we also offer developmental guidance. Each family gets a folder that's particular to that age of the child and offers information around growth and development and ways that we can help promote that for their child overall."

"Having Infant Mental Health specialists here in clinic has really transformed the way that we deliver our pediatric care," said Gregg Kennedy, MD, Jade's pediatrician. "It's convenient, one-stop shopping for families. While we can provide great medical care, the children can sometimes have challenging behaviors or their parents have challenging developmental questions, things that as general pediatricians, we have some training in but also benefit tremendously from the expertise of those who really dedicate their whole professional career to understanding the dynamic between the parents and the children."

"When she's sick, if there's anything I need, I can just message Caitlin and she will respond right away," Green said, "Being a new parent, that's a really scary thing and Caitlin was always very helpful. I think any new parent should be a part of this program."

Mental health consultations and brief therapy are available during doctor's visits for children ages 0-8, and in an outpatient behavioral health ongoing therapy setting for ages 0-7. Denver Health's Neonatal Intensive Care Unit (NICU) also has an Infant Mental Health specialist available to provide support to new parents going through what can be an especially stressful time.

"I would definitely recommend Denver Health's Infant Mental Health program for all parents," Green added. "It takes a village, and Caitlin was definitely part of our village."
Parents of young Denver Health patients should talk to your child's pediatrician about how to include Infant Mental Health in your child's next doctor's visit.