Occupational Therapy Month a chance to thank incredible staff
April 20, 2023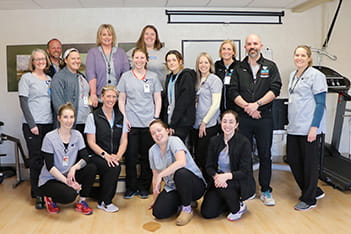 April is Occupational Therapy Month, and Denver Health thanks all of our incredible occupational therapists who help patients prepare to leave the hospital and safely return home. They teach patients how to perform activities of daily living, or ADLs – such as getting out of bed, getting dressed, using the restroom, eating – while they recover from injury. Occupational therapists work with a multidisciplinary team, including physical therapists, speech therapists and others, to make discharge plans to safely get patients out of the hospital and back home or in some form of housing.
Included in our Denver Health occupational therapy community are therapists who provide services in our outpatient clinics, specializing in hand and upper extremity rehabilitation, as well as OTs who deliver highly specialized care to patients on our inpatient behavioral health units.
"A lot of people don't know that we go in and start working with these patients right away," said occupational therapist lead Jamie Sandbulte, who has been at Denver Health for nearly 15 years. "Sometimes we're the first people to see them get up and move. The longer you lay in bed, the longer it will take to get that strength and mobility back. The sooner we get them up and moving, the better."
Many of their patients come from the emergency department or intensive care unit, and without therapy patients could have a much longer length of stay. Early mobilization helps reduce hospital-acquired infections, said physical therapist Ashley Bender, who has been at Denver Health for two years.
A big reason there is high morale and low turnover among the inpatient therapy team, Sandbulte and Bender said, is working for Cathy Goetz, an occupational therapist and supervisor for inpatient occupational and physical therapy.
"She really sets the tone for working hard, being humble, being good teammates for each other as well as others in the hospital," Sandbulte said.
Goetz, who has been at Denver Health for 32 years, praised the "very collaborative team that is highly invested in working specifically at Denver Health."\
"Each of our team members is very dedicated to the Denver Health mission and values, particularly as it relates to working with patients from all walks of life," Goetz said.
Denver Health thanks all of our therapists for their amazing dedication to our patients that helps us truly be a better health care system. Thank you for all that you do!