Denver Health's Pharmacy by Mail growing on patients, providers
May 23, 2023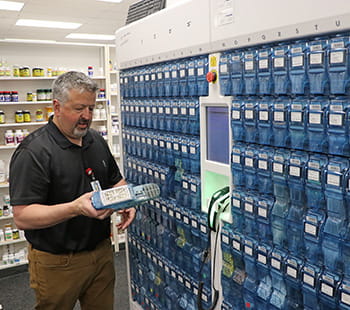 As part of an ongoing series featuring the incredible staff and various departments at Denver Health, this week we're spotlighting the Central Fill Pharmacy team, which has kept up with exploding demand for mail-order prescriptions, also called Pharmacy by Mail.
At the start of the COVID-19 pandemic, less than 2% of prescriptions at Denver Health were sent to patients by mail. Today, just over three years later, the number is 16%. Pharmacy by Mail volume in the first quarter of 2023 has increased by 24% compared with the first quarter of 2022, and by a whopping 732% since 2019.
Even with the recent end of COVID-19 Public Health Emergency, Pharmacy by Mail volume is expected to continue growing as more patients and providers become aware of its benefits. Whether it's a refill or a new prescription, most medications can be mailed, and shipping is free for patients. Medications are delivered to patients' homes through the U.S. Postal Service within three to five business days.
And for patients who need their medications the same day, Denver Health uses a courier service to make same-day deliveries, also free for the patient.
But the benefits go beyond just convenience, according to Warren Streck, manager of the Central Fill Pharmacy, who started working at Denver Health in April 2020, just as the pandemic took off in the U.S.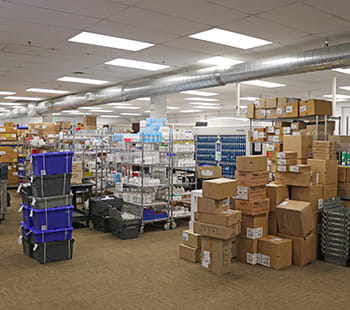 Studies show patients who use mail-order pharmacy have improved outcomes because of increased adherence to prescribed medication. Many patients who intend to take their medications fail to get refills due to factors such as inability to visit a pharmacy, work schedules, forgetfulness or procrastination. And nonadherence leads to more emergency room visits and hospitalizations.
"Social determinants of health can create issues for patients," Streck said. "Transportation, taking time off work – we take all of that out of the equation. We'll mail it to you, and if you need it today, we'll bring it to you."
The Central Fill Pharmacy – located on Quivas Street about a mile from Denver Health's main campus – was established in 2004, and mail orders began with a small number of patients. The Central Fill Pharmacy now runs seven days a week with a team of about 25 pharmacists, technicians, students and supervisors to meet the volume needed to keep turnaround times low.
"The team has just stepped up every time I put something in front of them," Streck said. "We've got a single vision to be the pharmacy of choice for every patient and provide the best service possible."
Click here to learn more about Denver Health's Pharmacy by Mail. You can sign up for Pharmacy by Mail in MyChart or by calling 303-436-4488 from 8 a.m.-5 p.m. Monday through Friday. You can also ask your provider to set up your prescriptions to be mailed during a telehealth or in-person appointment.